30 days is now coming on 3 months 😛 But we'll get there, oy!
The Estee Lauder lipstick in Fig is a right classic. I've been using Fig for years and years … because it would inevitably make an appearance in any Estee Lauder GWP (gift with purchase) pack. I kid you not. At one time, I had at least 5 or 6 tubes of Fig and it got to the point that everyone I knew had a tube of Fig because I'd give them one.
The colour is a browned red which looks very dark in the tube but after so many years, I can understand why Estee Lauder includes Fig into all their GWP packs – its a colour anyone of any skintone can wear. Its that neutral.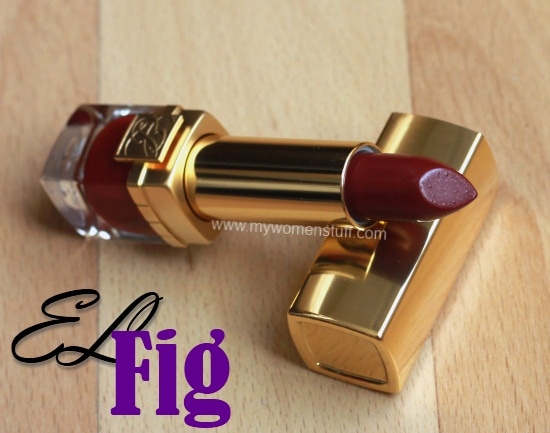 The version I have is the latest incarnation of Estee Lauder Pure Color Cream lipsticks. The packaging is the same – gold cover with clear plastic base with the colour representation embedded in it. It makes finding the right colour a cinch. The new formula promises a longer lasting colour with smooth creamy application. Estee Lauder has it down pat on all counts.
They didn't get rid of the scent though – pity. I still associate the scent of Estee Lauder lipsticks with the "old lady" image of the brand. The brand is hardly "old lady" anymore, but the scent still makes me think of it. So it would be nice if the scent goes.
So Fig – a browned red that looks dark and let's say this DULL in the tube. Look at that! Its soooo boring!
Here's a swatch on the back of my hand…
Estee Lauder Pure Color Long Lasting Lipstick – Fig swatch (swiped once)
… still boorinngg…. although it starts to surprise doesn't it? It actually looks reddish in a swatch, instead of the browned red in the tube. This is the Pure Color Cream formula, which as the name implies, is creamy. One swipe is usually opaque enough to cover your lip colour but unlike lipsticks of yore, it isn't waxy or heavy on the lips.
Also featuring: Smashbox Eye Wish palette (light blue, grey, cream) on eyes, Canmake Cheek and Cheek Blush Duo #2 Rose Tiara, Diorskin Nude Sculpting powder foundation, Shiseido Perfect Defining Volume Mascara Black
I think it really comes into its own when applied on lips. On my lips, its a deep red that looks brighter in the photos than it does in person, I swear. But it is a very nice colour. You can see a shine, but this lipstick contains no shimmer. It isn't very glossy either, but it imparts a very nice creamy look on the lips that is a classic lipstick. None of that sheer balmy lipsticks we have been seeing – this is classic lipstick at its best! 😀 Lasts more than 4 hours for me, with food and drink and wears off evenly. I cannot complain. I really can't.
In a nutshell
Estee Lauder Pure Color lipsticks are long lasting without drying, and without feeling heavy or waxy on the lips. The Cream texture applies smooth and very pigmented and opaque with a shine. Fig is a lovely neutral browned red that I believe will suit most people of any skin tone or skin colour. It could do without the signature Estee Lauder scent, but otherwise I have no complaints.
Pros: Long lasting colour, Creamy pigmented texture, Smooth and does not dry out lips, Not heavy not waxy, Fig is a good neutral colour for everyone
Cons: Scent reminds me of when Estee Lauder was an 'old lady' brand
Estee Lauder Pure Color lipsticks come in different textures but for me, they have always been one of the best in the creamy lipstick department. The good thing (sort of) is that Estee Lauder tends to include Fig in their GWP packs, as I've noted above. I'm sure many of you have cut your EL lipstick teeth on a GWP lipstick in the simple blue plastic case. Another colour I used to get was Tea Rose – had a few of them too.
Do you have a favourite Pure Color lipstick shade? Or might you stop by and take a look next time? I like the SA at the Estee Lauder counter at Isetan The Gardens – I've picked up a few things from there and she's always pleasant and helpful everytime.
Paris B
Estee Lauder Pure Color lipsticks retail at RM88 each and come in 35 shades at all Estee Lauder counters
What is the 30 Days of Lip Swatches project? I will be showcasing and reviewing 30 lipsticks or lip glosses in the coming days. Lip products was chosen by popular vote from the readers. You may find all 30 days of lip swatches or follow it by clicking on the Lips category.
Previously: Day 27 of 30: YSL Rouge Pur Couture 04 Rouge Vermillion