I was recently invited to experience an organic facial, which would have been a first for me. I'm not all that crazy about organic skincare based on some less than spectacular previous experiences but I was interested to give it a go to see what it was all about. It turned out that it was a regular facial but using 100% organic products. The location was My Beauty Cottage at SohoKL at Solaris Mont Kiara, and the products were from Éminence – handmade organic products from Hungary.
My Beauty Cottage – Pure Organic Professional Beauty House at SohoKL Solaris Mont Kiara
I'm told that Éminence is only sold at My Beauty Cottage and the skincare is fruit based and organic. The smell of the creams and masks are delicious enough to make your mouth water. The apricot one in particular really made me crave apricot jam – so concentrated was the scent which I'm told is all natural. You can even see some seeds and fruit pulp in the mix. I'll tell you a little bit about a couple of products I sampled a little further on. For now, let me tell you about the facial I had and whether it was any different from other facials I go to. There's also a little offer for readers below who might like to try this 😉
I tried the Stone Crop Restoring Treatment (RM338 I believe and one of their bestsellers) which uses the Stone Crop line of products and is targeted at healing the skin, providing moisture, repairing skin from sun damage and lightening pigmentation. Lets just say that if you really want to see full results, you'd probably have to use the full line and go for regular facials. Based on just one facial, its hard to say if it really does heal the skin.
Eminence Stone Crop Organic Handmade skincare
These were the products used on me – essentially, a cleanser, toner, mask, facial massage cream, serums, moisturiser. Stone Crop, I later found out, is a hardy ground cover plant and has regenerative and hydrating qualities. The products have a fresh scent of green plants and smelt a little herbal to me. Nothing unpleasant though.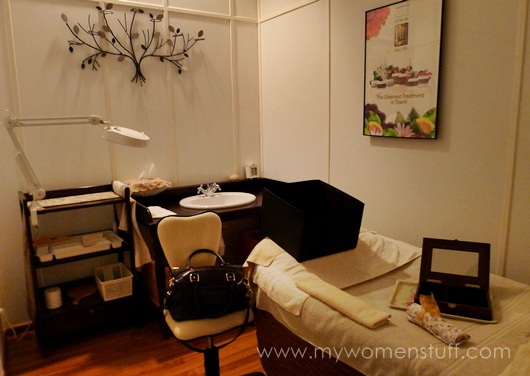 The facial rooms at My Beauty Cottage have a very girly feel to them. The bed is comfortable and the tube gown you are asked to change into is printed with flowers. Your clothes are hung on a pretty padded clothes hanger. If you wear jewellery or a watch, you are handed a jewellery box to put them into. All little personal touches I appreciated.
After cleansing and toning the skin, a mask is applied and then they place this very interesting gauze over your face, which they "wrap up" your skin in. Your face is physically lifted and wrapped up tightly. Its not uncomfortable but it is most certainly unusual. I was told that this helps to lift up the skin especially around the jawline, and also helps to hold the products in better.
After that, extraction is done, which I found rather painful. It could be because I had a lot of clogged pores (I hadn't been for a facial in a while) but it wasn't very pleasant. In all fairness, I did not notice any redness – perhaps it just felt more painful than it really was. They also shave and trim your brows – be sure to tell them if you don't want that. I should have because I was hoping to try threading and was growing my brows out.
A facial massage is performed and then another mask is placed on, again using that gauze wrap. After that, it is cleaned off and you are moisturized and sent on your merry way. The whole facial was about 2.5 hours which is long by most standards, but relaxing for the most part.
After the facial, I noticed firstly, that my skin felt and looked brighter and more moisturised, but it did not look "wet" or oily. It also did not feel that way and in fact, felt dry to the touch, which I like. As I've mentioned, 1 treatment isn't quite sufficient to see long terms results which you might if you used the skincare and went for regular treatments.
My Beauty Cottage is headquartered at SohoKL Solaris Mont Kiara but they also have a branch at 1 Utama. The waiting area is made to look like a very comfortable living room and the touches continue throughout even into the washrooms. You are made to feel right at home.
They also sell a good range of Eminence skincare for face and body if you are minded to try it. I thought the products a little pricey (RM78-368 depending on product) but I'm told you don't have to use very much as it is rather concentrated, so it actually evens itself out. Still its the initial outlay that is really hard on the pocket.
If you'd rather try it out first, there are also Starter Kits you can try with a range of products in travel sizes. I saw 2 Starter Kits – for Oily Skin and Normal Skin and they retail at RM288 each. Good sized products that will definitely help you decide if your skin likes it enough to keep using it. I may go back and try one of the starter kits some time in the future when I feel like trying organic products again, simply because they smell absolutely delish!
Eminence Apricot Masque and Apricot Whip Moisturizer – Just Sampling
I was given a sample pot of the Apricot Masque and Apricot Whip Moisturizer (which are also sold as trial sizes at RM30 each). Both smelt amazing – they made me crave peaches and apricots every time I used it. The sample of the Apricot Whip Moisturizer lasted me about 5 days used day and night. I found that it wasn't very moisturizing for me at night. I'd wake up with my skin feeling dry. In the day however, it kept my skin nice and moisturized and was not oily at all, which is what I liked best. And don't worry about smelling like an apricot all day. It does not last very long on the skin 🙂
The Apricot Masque was enough for 2 uses and it was like smearing jam on the skin – it smelt that delicious! And it has the same consistency too. It is a wash off mask which I found a little hard to wash off just like that. So I might recommend that you tissue off before washing. My skin did feel a little more hydrated after I'd washed off the mask and with regular use, you might find it more beneficial. I wasn't quite sold after just 2 uses.
Pros: Lovely comfortable waiting area, Fruit based products smell delicious, Generous use of products during the facial, Comfortable facial room with nice girly touches, Skin after facial feels clean and moisturized
Cons: Products and Services may be a little pricey for some, Extraction process was a little painful
If organic skincare is your thing, or perhaps you want to know more about it, or try it before you commit then its worth taking a look at what My Beauty Cottage has to offer. I will say that the facials are a little pricey compared to others, but they do not stint on the products used and we all know pure organic products don't come cheap anyway, right?
If you have had a facial at My Beauty Cottage, do let us know how you found it (They do 1st time trial facials at RM198 or RM168 for the Apricot Hydrating Facial). Or if you have used Eminence Organic Skincare, do share too – I always love to hear what others have to say about something I'm not familiar with 🙂
Offer for MWS Readers: Get RM10 off the 1st Trial Facial price of RM198 only for new visitors (pay only RM188) + COMPLIMENTARY welcome scalp massage, foot bath, light refreshment and trial product worth RM30. Just let them know you were referred from My Women Stuff when making your appointment. Valid to 30 September 2011 at both SohoKL and 1 Utama. Please check in store if you have queries.
Paris B
My Beauty Cottage is at SohoKL Solaris Mont Kiara (Tel: 603-6204 9322) and 1 Utama (Tel: 603-7726 9186) or find them at their website and Facebook.