I first spotted the Hada Labo red line in one of my regular online shopping jaunts. At the time, I wasn't too sure what it was so I didn't pick up anything. By the time it was launched here, I'd learnt that the red Hada Labo line is a line targeted at the skin firming and anti-aging crowd (me!) and that it contains retinol (vitamin A).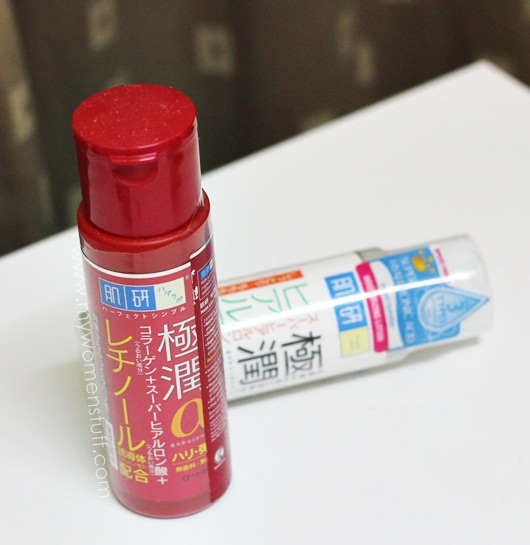 I have most of the products from the line, but I really wanted to concentrate on just the Hada Labo Retinol Lifting and Firming Lotion for today. I've noticed quite a few questions flying around online about whether one should use the normal Super Hyaluronic Acid Lotion that comes in the white bottle or this Retinol Lifting + Firming Lotion which comes in the red bottle and which is better; and I wanted to address that because I'm nosy and opinionated that way 🙂
First off though, what is retinol? Just very quickly, Retinol is Vitamin A that can assist in accelerating cell turnover by encouraging cell production under the skin. It also has an exfoliating effect to exfoliate the top layer of dead skin cells, to allow the new skin cells to surface. This is what gives the appearance of smoother, softer skin, when used in the long run. But hold that thought on exfoliation yes? EDIT 2017: Retinol does not exfoliate per se. It does help skin turnover and can often be drying. This can result in dry or flaky skin which isn't necessarily exfoliating.
In terms of usage, it is essentially the same as that of the SHA Lotion. This is a lotion i.e. the 2nd step of skincare after cleansing.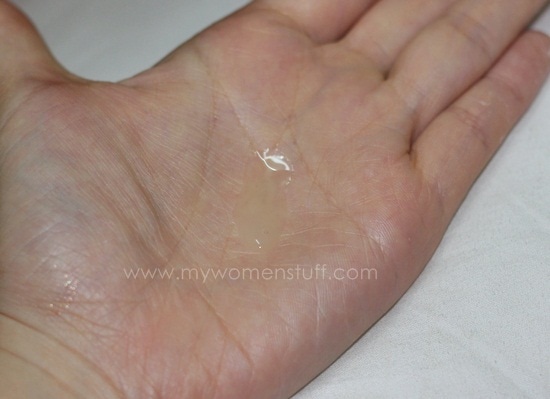 Can you see it? That's about all the lotion you need
The product comes in a good sized bottle, and you only use about 2 drops of the viscous lotion, and pat it into your skin until it is fully absorbed. Like the SHA lotion, you do have to spend a while patting at it. It starts out feeling a little bit sticky but as you keep patting, the sticky feeling will disappear. If you are familiar with how to use the regular moisturizing lotion, you'll be familiar with this one. If not, I will suggest you take a quick read of my SHA Lotion review to read the techniques of usage.
Once patted in, I will attest to skin feeling well hydrated. Over about a month while I was using this, my skin did feel a little bit softer, perhaps a little smoother. I was also using some of the other products in the line – the essence in particular – so I do think there was a cumulative effect and with no breakouts, I was very happy with how my face felt and looked.
However, I noticed something very disconcerting happening about the same time. The skin on my hands were drying out and peeling off in sheets. You can see a picture of a less scary version of what I mean here.
It took me quite a while to realize that Retinol is an exfoliant. The level of retinyl palmitate in this lotion may be quite low, but it clearly irritated the sensitive skin on my hands over time. When I finally twigged, I stopped all use of the whole Hada Labo Retinol line and with time, and employing my tried and true techniques, the skin on my hands went back to normal.
For testing purposes, it takes about a week using the Retinol Lotion before my hands start to react and faster if I include the essence (more concentrated) so for now, I've cut out the use of the essence, and am only using the Retinol Lotion sparingly. I also only use this line at night – despite the low levels of retinol, I don't take chances with the sun. If you use it in the day, make sure you top up with a strong sunscreen. By contrast, the regular Super Hyaluronic Acid lotion does not cause the skin on my hands to react, and it delivers nice hydration to my skin too. It may not have the same qualities of exfoliation and smoothing the skin so quickly, but there are other ways you can achieve that too.
Ingredients: water, butylene glycol, glycerine, PEG-20 sorbitan isostearate, caprylic/capric triglyceride, methylparaben, PPG-10 methyl glucose, ether, sodium Hyaluronate, triethanolamine, Carbomer, hydroxyethylcellulose, tocopherol, BHT, disodium EDTA, hydrolyzed collagen, hydrolyzed soy protein, limnanthes alba (meadowfoam) seed oil, retinyl palmitate, helianthus annus (sunflower) seed oil, sodium Everglades Hyaluronate, zea mays (corn oil) thioctic acid, beta carotene
In a nutshell
This is an affordable lotion that can, in the long term, help skin feel and look smoother and softer. It does take a bit of work to get it to absorb nicely into the skin. If you have sensitive skin on your face or hands then you may want to be careful as Retinol can irritate sensitive skin. Also, if used in the day, a good sunscreen is a must.
Pros: Affordable, Skin feels hydrated almost immediately, Long term use can help with exfoliation and cell renewal resulting in smoother softer skin and also address fine lines on the skin
Cons: Takes a bit of work to apply, Retinol can cause sensitive skins to react or dry out sensitive skin and cause it to peel
Should I use the Hada Labo Retinol Firming + Lifting Lotion or the Super Hyaluronic Acid Lotion? Which is better?
My answer: It depends on your skin concerns. If anti-aging is your concern, then the Retinol Lifting + Firming Lotion might put you on the right track. However, if you have very sensitive skin on your hands or face, that might be sensitive to a peeling agent like Retinol, you might be better off using just the Super Hyaluronic Acid Lotion. You can use other skincare products like anti-aging creams or scrubs or masks to address the anti-aging and skin firming concerns.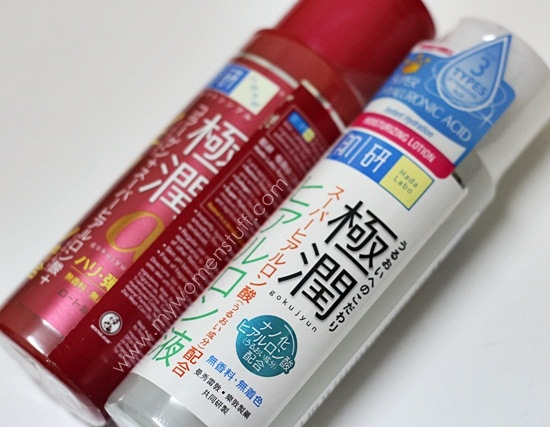 It is also pertinent to note that a good hydration regime also helps to keep lines and wrinkles at bay, and to keep skin looking and feeling soft and smooth. In my view, the red line or the Retinol range is more suitable for those in their late 20's or 30's. The Super Hyaluronic Acid Lotion or regular white line is suitable for everyone for whom hydration may be a concern. So the question should not be which one is better, but which one suits your skin concerns best. Hope this helps you decide 🙂
On my part, I'm back to the SHA lotion because it works, and its affordable and I can do crazy things like turn it into a sopping wet mask without burning a hole in my wallet 🙂 The red line will go to my Mom who's already eyeing it 🙂
Have you tried the Hada Labo Retinol Lifting + Firming Lotion? Or any of the products in the Retinol line? Are you liking it? Or do you think the original one is still best. If you are sensitive to hyaluronic acid, stay far away 😛
Paris B
Hada Labo Retinol Lifting + Firming Lotion retails at RM55.90 at Guardian pharmacies and most major pharmacies nationwide.