I first spotted the Hada Labo red line in one of my regular online shopping jaunts. At the time, I wasn't too sure what it was so I didn't pick up anything. By the time it was launched here, I'd learnt that the red Hada Labo line is a line targeted at the skin firming and anti-aging crowd (me!) and that it contains retinol (vitamin A).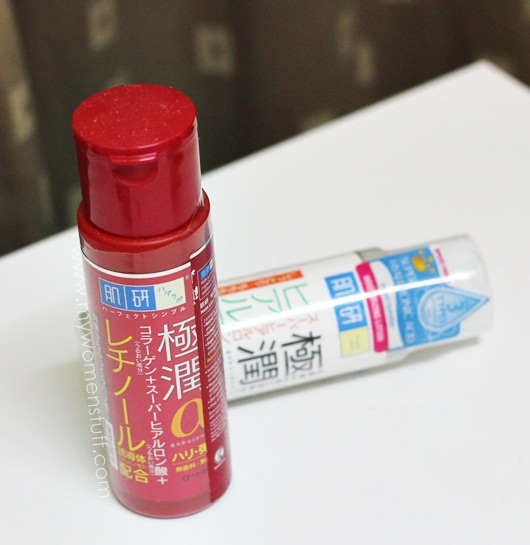 I have most of the products from the line, but I really wanted to concentrate on just the Hada Labo Retinol Lifting and Firming Lotion for today. I've noticed quite a few questions flying around online about whether one should use the normal Super Hyaluronic Acid Lotion that comes in the white bottle or this Retinol Lifting + Firming Lotion which comes in the red bottle and which is better; and I wanted to address that because I'm nosy and opinionated that way :)
First off though, what is retinol? Just very quickly, Retinol is Vitamin A that can assist in accelerating cell turnover by encouraging cell production under the skin. It also has an exfoliating effect to exfoliate the top layer of dead skin cells, to allow the new skin cells to surface. This is what gives the appearance of smoother, softer skin, when used in the long run. But hold that thought on exfoliation yes? EDIT 2017: Retinol does not exfoliate per se. It does help skin turnover and can often be drying. This can result in dry or flaky skin which isn't necessarily exfoliating.