Happy Saturday Ladies!
I'm not one for going on and on about new collections so far ahead of time, but 2 press releases have just landed in my mailbox and I totally fell in love with them! I felt I'd better share them so you know what to save up for when they hit the counters in August-September 😀
Dior Fall 2011 Blue Tie
Dior always grabs me in their end of year collections. Spring and Summer are usually a bit ho-hum but Fall-Winter makes me sit up and take notice. This year, its all about Navy Blue. The imagery is gorgeous.
That's the star product of the collection right there. 4 gorgeous shadows and a gloss (RM215) and like the Dior Minaudiere palette, there is a cover so your gloss doesn't get contaminated. The outside of the metal palette is made to look like the Cannage puffed leather on a Lady Dior bag.


Complete the look with 4 new pink and beige shades of Rouge Dior lipsticks, 4 new Serum de Rouge in Crystal Shades – Sheer tinted lipsticks in the Serum de Rouge formula and 2 nail polishes (RM70) in deep navy blue.
I love my lipsticks, but my eyes have been caught by something new from Dior – a 3 colour smokey eyeshadow palette.
A combination of colours to allow you do create an easy smokey eye look with light reflecting textures. What is going to be interesting is the packaging. You may notice in the product shot that instead of flipping open like a regular eyeshadow palette, the new Dior trios slide open allowing a mirror to pop up.
Its all quite gimmicky but I would love to see how it works in real life.
There will be 2 shades available – Smokey Black and Smokey Navy (RM149).
Does any of the Dior Blue Tie collection grab your attention? For me, I'm definitely keeping my eye on the star product as well as the 3 colour smokey eyeshadow palettes. Oh and there are new retractable Diorshow Waterproof Eyeliners (RM75) too to help with the smokey eye look. I haven't tried their eyeliners yet either.
Guerlain Miroir Miroir Fall 2011
Guerlain too has a focus on eyeshadows this Fall but their primary focus is on the one aspect that Guerlain does amazingly well – their Rouge G lipsticks.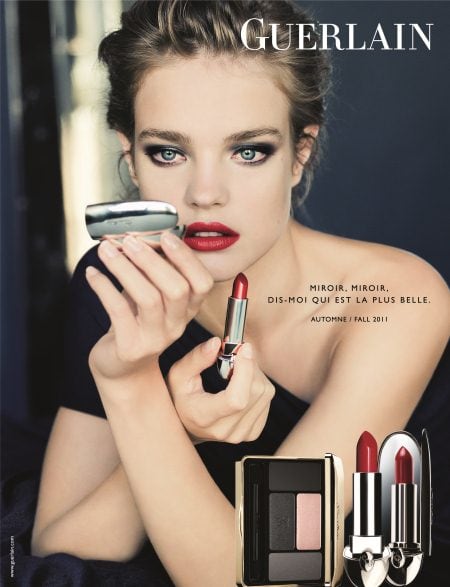 There will be 3 new Rouge G lipsticks introduced:-
25 Garçonne – a real red
70 Gigolo – a plum
71 Girly – a pink
Me? I'll say yes please to Garçonne!
For the eyes, Guerlain introduces the Ecrin 4 Colours eyeshadow quads. Guerlain used to have quads before. They looked like expensive chocolate. With the introduction of the Ecrin 6 colour eyeshadow palettes, it would appear that Guerlain may be sticking to this formula and packaging for future releases. That palette above – Les Noirs I believe, looks stunning. Here is a visual of all the colours we can expect to find once they launch.
Each palette of 4 colours contains 4 different eyeshadow textures – matte, iridescent, velvet satin and alcatar'eyes (metallic finish) so you can mix and match them at will to create various looks. I have my eye on that black-pink palette as well as possibly that palette in the lower right – with the forest green and beige.
I don't have local prices for the Guerlain collection yet but I expect to have them closer to launch date. For now, the Dior Blue Tie collection is expected to go on sale in August 2011 and the Guerlain collection will start appearing in late August/early September 2011.
These are 2 collections I've had my eye on ever since I saw some preview pictures online and I just know that I will be picking up a product or two when they launch. I've already got my eye on the Garconne Rouge G and the Dior 3 colour smokey eye palette 🙂
What do you have your eye on? Let's fantasy shop!
Enjoy the weekend!
Paris B
Dior Blue Tie Fall 2011 collection is expected to go on sale from August 2011. Guerlain Miroir Miroir Fall 2011 collection is expected to go on sale from September 2011.