I was at the Shu Tokyo Lash party last week and although the lashes were interesting and the makeup imaginative and all, let me confess. I only had eyes for the shoes.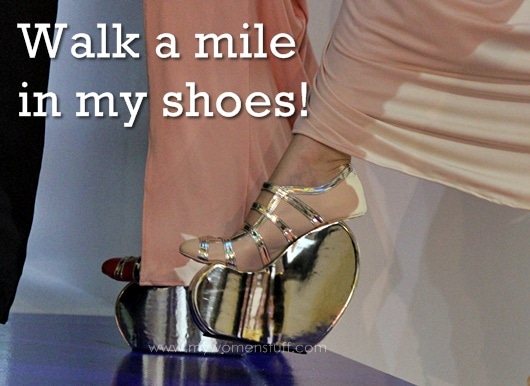 Or perhaps I should say footwear.
The models who took to the runway were wearing these really strange looking things on their feet and I could not help staring and wondering how they even managed to walk in them. You know, I have a healthy sort of admiration for models.
People may deride them and call them shallow but try walking a mile in their shoes… specifically these shoes…
or perhaps these shoes?
Or maybe even these strange backward facing shoes…
… and then see what you will say 🙂
Me? I have nothing but respect for models who can strut the runway in 5 inch heels, in shoes too big for them, in shoes that look like THESE… and not fall flat on their faces.
Dare you take the step to walk a mile in their shoes? 🙂
Paris B