It would seem like the blogosphere is all agog over the various Fall 2011 collections already. Well, I got burnt out a while ago so I'm not even going there anymore. For some reason, seeing wave after wave of new collections or of one collection turns me off that collection, believe it or not. I usually only pick up interest again once it launches or closer to launch date. So I'm going to stay firmly in Summer mode for now 🙂 Hello! Its only June!
Here are the 2 limited edition eyeshadow palettes released in the Dior Summer 2011 collection – Rosy Tan (left) and Rosy Nude (right). You will have seen them already. The palettes are very simple neutral palettes, in my view. Nothing dramatic or exciting. But very practical.
The two palettes look like different shades of each other so you don't need both, really. Rosy Nude is the lighter toned one, where all the colours have iridescent shimmer. If what you're looking for is a pale neutral tone of colour on the eyes, Rosy Nude will be it. The brown in this one is a tad light though. Enough to give slight depth of colour but not enough to line. I thought I would prefer this one but I found I actually prefer Rosy Tan a little more.
Dior Summer 2011 eyeshadow palettes Left: Rosy Tan RightL Rosy Nude
Rosy Tan has deeper colours and when applied, the colours go on the skin stronger and I personally believe has better colour range than Rosy Nude. If you prefer colours that show up more then Rosy Tan is the one to go for. The colours are mostly iridescent except for the colour in the lower right which is matte (but which is my favourite shade of the lot!)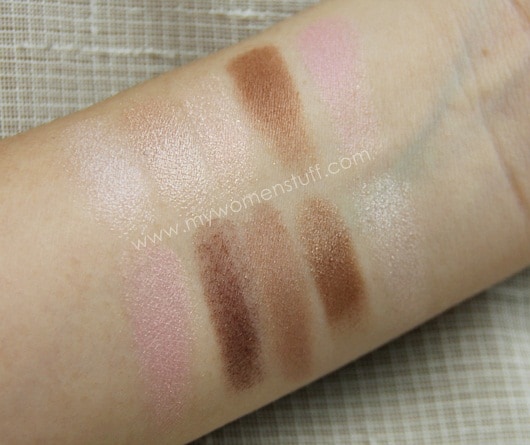 Top: Rosy Nude Bottom: Rosy Tan Swatched Clockwise from Top Left corder of palette
As I've said, the colours aren't very exciting are they? The pink is soft and is surprisingly quite easy to wear. The texture is quite typically Dior, and the colours tend toward the iridescent hint of colour instead of eye popping in your face colour. If you like this style of eyeshadows, its worth taking a look. If you prefer something eye popping and strong coloured this will not be for you.
I haven't been able to get a good shot of it on the eyes, so you'd just have to make do with these product swatches. I usually use a dark colour swept over my whole lid and tempered with a light shimmer shade. I do find that the shades tend towards being rather warm while I prefer cool toned browns (which are darned hard to find!). Still, so long as I stick to just 2 colours, I've been able to make both palettes work – unexciting but very practical 🙂
Pros: Lovely washes of neutral colour for the lids, Nice eyeshadow texture without chunky glitter
Cons: Pricey, Colours may be too safe and sheer for some
Actually, since I do have both palettes, I do end up mixing shades from both palettes. Rosy Nude has 3 gorgeous iridescent shades that go very nicely with the colours from Rosy Tan. However, you don't need both. If you are in the market for a neutral eyeshadow palette, just go for either. They both work well in that regard.
Speaking of floods of news about new collections, lets hear your thoughts. Are you the sort who likes knowing in advance about all the upcoming collections and keeping tabs on everything? Or do you find it too overwhelming and perhaps even get turned off when there's too much about the same brand/collection/item? You know what I think, so what about you? 🙂
Paris B
Dior Rosy Tan and Rosy Nude eyeshadow palettes are limited edition for Summer 2011 and retail at RM195 each at all Dior counters while stocks last