When I noticed the similarity between the Chanel Rouge Coco Shine lipsticks and the new Dior Addict lipsticks, I guess I wasn't the only one. Being released so close to each other, and boasting similar textures, there is bound to be some comparisons to be made between the two. Incidentally, I've gotten a few enquiries so what better time to run a quick comparison eh? 😉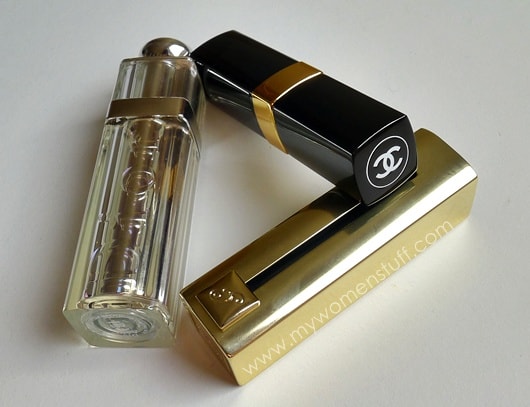 To be honest, I'm just throwing in the Guerlain Rouge Automatique for confusion haha! The real comparison here is between Chanel Rouge Coco Shine and the new Dior Addict lipsticks, and which I prefer (which may not necessarily be the same as what you prefer). My comparison was based on packaging, texture, lasting power and price.
Packaging
My vote goes to Chanel on this one. I like the sleek simple packaging of the Chanel lipstick tubes. Always have, and probably always will. Dior's futuristic looking tube looks a bit plain and bulkier whilst Guerlain's just a tad gimmicky for me. Of the 3, the Chanel lipstick has the best heft and feels the most solid. Guerlain's the lightest.