A couple of purchases from Korea I didn't mention were from Laneige. Being a Korean brand of skincare, it was naturally a little more affordable to get there and I picked up one or two items (including the sunblock I'd been curious about). Thanks to a generous GWP in store (which was the main reason I was tempted), I got a very generous sample of the iconic Laneige Water Sleeping Pack EX which got me through the dry air there. I also picked up a tub – the power of sampling 🙂
It reminded me of my first experience with the Laneige Water Sleeping Pack many years ago, when I'd first heard of the brand. We didn't have a counter here then, so I picked up the Water Sleeping Pack from the Laneige store in Hong Kong. The sales assistant in store told me it was their bestselling product. I bought it and tried it but it didn't give me wonderful results. I also did not like the scent which I found sharp and very floral. Oh and I found it sticky. I don't think I ever finished that tub.
Happily, all that has changed. That was over 5 years ago and now, I find that the Water Sleeping Pack EX comes in a sturdy looking jar. The texture appears less gel-like and more like a gel-emulsion, and it is no longer sticky nor chemical scented. Whew!
The scent is still strong and floral, but it is now a more rounded scent, not the sharp scent it was from years before. I am probably the only one here who remembers that sharp scent and the plain white tub it used to come in 😛
The texture now is thicker and it is more opaque. It spreads easily on the skin and absorbs into my skin without feeling sticky. This is a sleeping pack, which for the uninitiated, is a mask you use while sleeping. You apply it on your skin after your moisturizer and go to sleep. You do not have to wash it off, only when you wash your face in the morning, and it works all night to deliver moisture into your skin.
I'd incorporated this sleeping pack into my hydration regime and I have found that it helps my skin remain hydrated and ultimately looking better. Its a million times easier than putting on a sheet mask or cream mask, both of which you have to wash off or use before applying skincare. I sleep in an air conditioned environment which can be drying, so a sleeping mask used about 3-4 times a week is very useful for me. What I also like is that I can slap it on, and then go straight to bed without fuss.
Here's another way I use it. When I have had a rough day, or I notice my skin looking a little dull from stress, or if I'm having a late night, I slap on this sleeping pack after my skincare; and wake up the next morning with skin that looks brighter and better and more rested.
I do however have to caution against using a thick layer. That was what I was advised before and I did not like it. It felt sticky and I was concerned about spreading it all over my pillow. So what I do is apply enough gel to be thicker than regular moisturizer but not so thick as to feel sticky and tacky on the skin and leave it. It absorbs quite quickly into my skin so it does not feel sticky thereafter. When I wash my face in the morning, it does not feel slippery or oily. I guess they have improved on this product.
Pros: Light texture, Absorbs quickly, Skin feels hydrated the morning after, Quick and easy hydrating mask
Cons: Scent might be a bit strong for some
Here is the ingredient list for anyone interested.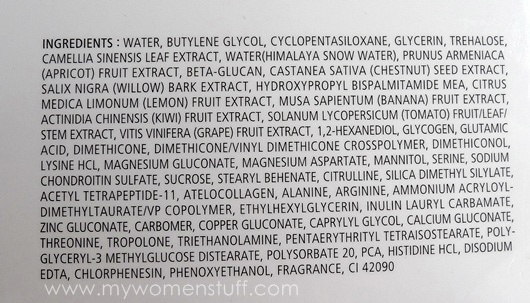 I had no adverse reactions to this product. It felt just like another gel moisturizer on my skin, but I have a friend who felt a slight tingling on her skin. It did not break her out nor turn the skin red, but it tingled so that might be a point to note.
Xin uses her straight after her serum, in place of moisturizer. I on the other hand, as my concern was hydration, use it after a gel moisturizer. Cleanser -> Toner/Lotion -> Serum -> Moisturizer -> Sleeping Pack. I keep it on my dresser and dip into it every alternate day and this, together with my hydration regime is definitely giving me much better, smoother skin.
Have you used the Water Sleeping Pack before? Or perhaps you too remember the days when it was more watery in texture and came in that white pharmaceutical looking jar 😛
Paris B
The Laneige Water Sleeping Pack EX retails at RM100/80ml (I think) at Laneige counters
You can get free samples of this from the Laneige Malaysia website or try asking at the counter. If you have a Laneige Water Sleeping Pack EX experience to share, you could win RM500 worth of Laneige products! Find out more here.