I have an embarrassing secret to share. I'd seen some trailers of The Green Lantern with the droolicious Ryan Reynolds at the helm a while ago and was really really keen to watch it. At about the same time as the trailers, came The Green Hornet. I think you can see where this is heading… I mean… Hornet… Lantern…
Long story short, I went to watch The Green Hornet, and sat through the movie, wondering if my memory of what Ryan Reynolds looked like had failed me, and where the Green Lantern ring is, and why there was a Chinese sidekick that I did not remember from my Sunday morning Justice League cartoons. It was not until the credits rolled that I went "Oh no! This isn't The Green Lantern!"
So yes. Embarrassing 😳
Which little anecdote brings me to the launch of the DC Comics Super Heroes Flagship store at Pavilion KL 🙂
DC Comics is what brought us the iconic Justice League of America of Superman, Wonder Woman, Batman, Flash, Green Lantern et al. Comic book super heroes we have all grown up with and with their arch rivals and super villains, we either love or hate 😛
Left: Hawkgirl Right: Flash, Wonder Woman
If you are a DC Comics Super Hero fan, or just a fan of the comics and want to get the authentic merchandise, you can head down to the FC Comics Super Heroes flagship store on the 5th floor of Pavilion KL – the biggest DC Comics store in Asia.
Want to pull a Superman/Clark Kent stunt?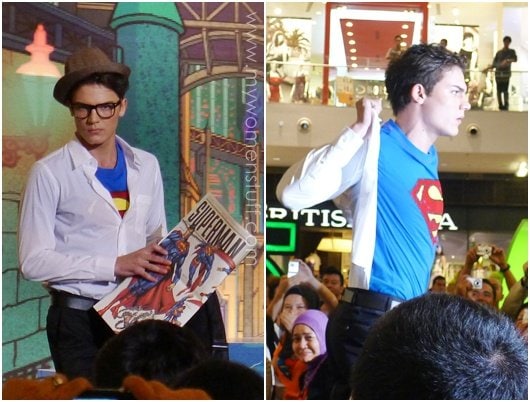 I like the T-shirt actually – as did the hordes of screaming girls in the audience. The male model had such an intent, deadpan look, I had to laugh.
Ahem! Supergirl to the rescue! 😀 I was made to wear it as part of the dress code. Lovely and vintage looking Superman/girl/woman tee yes? 😉
And here's a couple of other outfits you could find at the DC Comics store alongside a replica of the Batmobile and Batpod. Batpod. That's a bit new to me.
There are regular T-shirts with prints too, not everything is as out there as the first outfit you see although it might come in useful at Halloween eh?
Did you know about this store? And do you plan to watch The Green Lantern? I will! 😀 And this time, I know I won't make a mistake 😛
Paris B
The DC Comics Super Heroes Flagship Store is on the 5th Floor of Pavilion Kuala Lumpur, Jalan Bukit Bintang