Benefit describes this as "Jeweled Berry". Jeweled Berry is a colour I'd wear, and often. However, looking at it in the tube when I received it made my heart sink.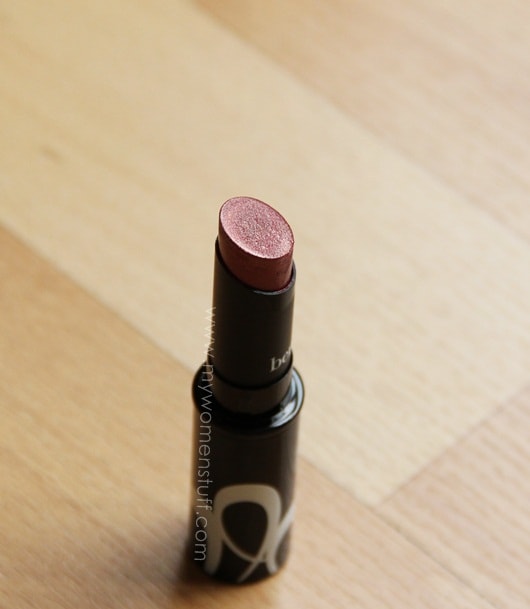 Did you think this photo unrepresentative of the colour of this lipstick? You're wrong. The product does look like this. Dark, unassuming and frankly, boring. Oh dear. Christine and Karen had made it look so good, hence prompting me to go for this colour. However, perseverence and determination has its virtues. You can't tell how a colour will work until you wear it yourself. And I'm so glad I did!
I love the colour of Breakup Rumor. I don't know why its given such a depressing sort of name, but the colour is a lovely berry with gold shimmer.
Benefit Breakup Rumor Lipstick swatch Left: 1x Right: 3 times
You can see the shimmer in this lipstick from the swatches. Its not overly shimmery and although this is one of Benefit's Full Finish texture lipsticks, one swipe gives a lovely sheer colour which is sufficient for most people.
Also featuring: Essence Secret It Girl Silky Touch blush
The colour on lips is really quite lovely. A dark vampy sort of berry shot through with understated shimmer. I've applied about 3 layers here for an opaque full finish colour. Its lovely!
Pros: Buildable colour, Subtle shimmer, Lovely colour
Cons: Its being discontinued
Yep you read it right. Benefit is discontinuing this colour, but you can possibly still get it from our local Benefit counters or you can get it on sale online at the Benefit Cosmetics website for just US$9 from $18. I'm not sure of local prices as mine was purchased online.
Do you have a Benefit Cosmetics lipstick that you like? Or is it a brand you pass by? I own a few and I do like Benefit lipsticks. The textures are usually sheer to opaque and have a lovely texture without any scent. So, take a look, if you don't have one already 😉
Paris B
Benefit Cosmetics lipsticks retail online for US$18 each and locally at about RM75 subject to verification at all Benefit Cosmetics counters and Sephora Malaysia
What is the 30 Days of Lip Swatches project? I will be showcasing and reviewing 30 lipsticks or lip glosses in the coming days. Lip products was chosen by popular vote from the readers. You may find all 30 days of lip swatches or follow it by clicking on the Lips category.
Previously : Day 19 of 30 : Dior Creme de Gloss Pink Elixir No. 255