I don't know if we'll ever see Dolce & Gabbana makeup enter our world here (they aren't exactly mainstream). I was intrigued when I first knew about the brand, but not so intrigued as to actually commission a purchase of anything from the brand. However, I recently saw the Ultra Shine lipgloss going on sale on Strawberrynet (If you want to know why I shop there you may read here) and I took the plunge.
Oh darn!
I chose No. 120 Passion because it looked like a lovely pinky-red that might be more suitable as an everyday lip as opposed to Ruby which looked markedly redder. I'm glad I chose Passion. Its such a lovely colour!
The colour in the square tube is pretty much true to application. The tube itself is simple. Plain clear acrylic at the bottom with a gold cap embossed with the brand name. It actually reminds me a lot of the Estee Lauder Pure Color Gloss but texture is quite dissimilar. This is luxury sparkly lipgloss in a tube!
Yes, Dolce & Gabbana makeup falls in the luxury category so no, they do not come cheap. Quality however is there so I regret this purchase not one bit.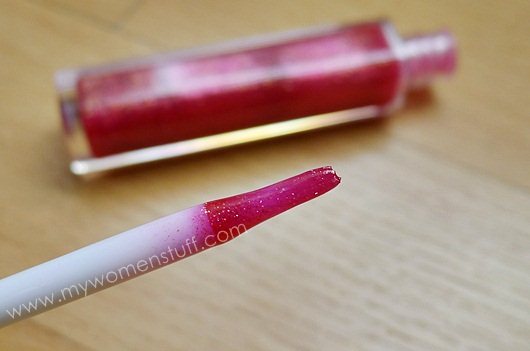 Dolce & Gabbana Ultra Shine lipgloss brush applicator
The applicator is a brush which I like. As you can see, the brush is quite tight so it does not splay when you apply it to your lips. This is quite important for getting a good application and I love also that it helps apply the gloss more evenly. It also applies it a little thicker and if so, you can use just 1 swipe to cover both your lips quite easily.
It is not sticky and not goopy and does not travel at all while imparting super high shine that is absolutely gorgeous. Rave rave rave! Rah rah rah! I'll shut up now 😛
Dolce & Gabbana Passion Lipgloss Left: Swatched 1 time Right: Layered
No. 120 Passion is, as I have said, a pinky red with lots of gold shimmer. You can see from the swatches that the gold shimmer is very evenly distributed and is plentiful. However, it does not look crass nor chunky on the lips. The formula, being a gloss, is more transparent but even 1 layer of gloss imparts good colour, shine and gloss factor. Very very nice!
Also featuring: Hada Labo BB Emulsion #1 Light Beige, Coffret D'or Beauty Sharp Designer Face Colour 03 and Dior Rosy Nude eyeshadow palette
I applied about 2 layers on my lips. You can see the excellent colour pay off, lovely high gloss and shine and it does not cause my lips to stick together. The only drawback I can find is the heavy rose scent which is so strong, I can taste it. I do forgive it though, because I love how this gloss looks. *mwaks!*
Pros: High gloss and shine, Good pigment for a gloss, Not sticky, Brush applicator makes it very easy to use,
Cons: Pricey, Unavailable locally, Strong scent
I just tempted myself to get another colour. Goodness! I'm my own worst enabler 😛 Perhaps I'll get Sunset (a peachy nude) or maybe Charm or Ruby (reds). Oh dear… and I wasn't a lipgloss girl too!
Long shot, but if you have tried any Dolce & Gabbana makeup, do share what else you like from the brand (I hear the eyeshadow palettes get raves but I'm not too keen on the colours for now) or if you have any of the Ultra Shine lipglosses and want to rec a colour, please do!! 😀
Paris B
Dolce & Gabbana Ultra Shine Lip gloss retails at US$29 at Saks.com (USA), Harrods (London) or find your location here. I got mine from StrawberryNET.com
What is the 30 Days of Lip Swatches project? I will be showcasing and reviewing 30 lipsticks or lip glosses in the coming days. Lip products was chosen by popular vote from the readers. You may find all 30 days of lip swatches or follow it by clicking on the Lips category.
Previously : Day 16 of 30 : Shiro Cosmetics Intertubes Over 9000