Alright, alright! I've bowed to the general pressure (and curiousity) and stepped foot into the hallowed halls of Sephora Malaysia LOL! I was there during the weekend, after having a lovely dim sum brunch with 2 new friends. Since we were "in the area" (loosely defined) we decided to pay Sephora a visit and see how it fared, as 2 of us hadn't been yet.
The first Sephora store in Kuala Lumpur (yes there'll be there is another at KLCC soon) is located within an interestingly designed geometric sphere on Jalan Bukit Bintang, just outside of Starhill Gallery, opposite Pavilion Kuala Lumpur. Access to the store is through 2 doors – from Starhill Gallery and from Fahrenheit 88.
My first impression of Sephora KL was "Gosh! That's small!" I swept my eyes around the place, and you can literally just about see everything since its circular. This picture is proof – I'm standing almost at the other end of the room – if I could just call it that.
Despite the diminutive size, I do think its done quite well, all things considered. I've got loads of pictures below, so you can take a virtual visit through our local Sephora, if you haven't been there, or are living outside of KL, or just would like a point of reference. I'll have some commentary and an idea of prices of products as well. So come on then, let's go!
Colour Makeup Brands at Sephora Malaysia
First stop as you step through the doors from Fahrenheit 88 will be the Urban Decay counter. If you come in through Starhill Gallery, its on the opposite end.
Urban Decay selected prices: Single eyeshadow (RM69), Stardust eyeshadow (RM75), 24/7 Glide On Eye Pencil (RM69), Shadow Box (RM145), Primer Potion (RM75)
The UD Naked palette is stocked, except it flies off the shelves faster than they can stock it. As of last weekend it was not yet back in stock. The famed Primer Potion is available at RM75 but in the old packaging (doe foot applicator), not the new one of a squeeze tube.
Too Faced Cosmetics is the other major new colour brand available.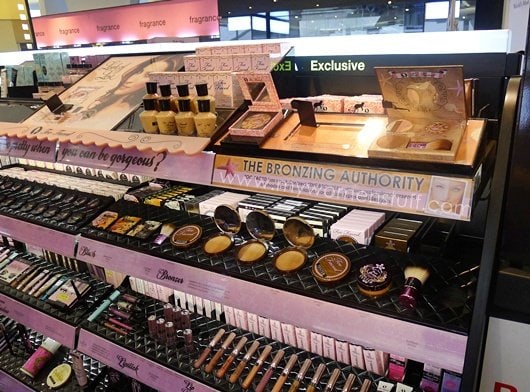 Too Faced Cosmetics selected prices: Pink Leopard bronzer (RM109), Bronzers (RM99-105)
Too overwhelming and too much to take in 😛 I remember raves about their bronzers, if you are into that. The one big item I knew for sure had loads of raves was the Too Faced Shadow Insurance which is an eyelid primer.
The Too Faced Shadow Insurance comes in a tube, and retails here at RM69. The news is that if you are in the market for an eyelid primer, the two most raved ones are the Urban Decay Primer Potion and Too Faced Shadow Insurance. Great to know that both are finally available locally!
There is also another new color brand – Pop Beauty.
This is a younger looking brand with whimsical looking packaging and prices are quite affordable. I believe an eyeshadow retails at about RM69. However, I'm unfamiliar with this brand. I was also pleased to see Givenchy because it was getting nearly impossible to find a Givenchy counter. There isn't much from the brand I'm crazy about, but I do like checking out their collections now and again – Oh I do like their blushes! 😀
There was of course, the Sephora Color Wall, which is a whole wall of Sephora brand colour cosmetics.
Sephora Makeup selected prices: Mono Eyeshadow (RM45), Lipstick (RM49), Lipgloss (RM39), Foundation (RM65), Compact Powder (RM55), Blush (RM49)
The array of colors is quite mind boggling, ranging from foundations at one end, nail colours and eye colours in the middle and lip products bringing up the end. I find the prices affordable for the majority. I'm not familiar with the products however, since I've never really tried any Sephora Makeup. Perhaps, its time to? 😉
There are also Sephora brushes and various accessories – nail files, glass nail files, tweezers… including a lighted tweezer that I found terribly amusing!
This is the famed Sephora brush display that has so many people aping it – standing the brushes in clear boxes filled with plastic beads. You can quite easily get these plastic beads from the DIY store I think, and a simple clear glass holder from Ikea. Tada! Your very own Sephora brush stand! 🙂
I'm told that the Sephora brushes are of decent quality (some of them) and I found the prices affordable. The red handled brushes retail between RM95-105 and the black handled smaller brushes start from RM49. As brushes go, I think its decent enough for the approximate quality (just quickly testing at the counter).
In terms of colour, there is also Benefit Cosmetics, Smashbox Cosmetics and Make Up For Ever, all of which are very well stocked. I was happiest to see MUFE because the only 2 MUFE counters in KL are at KLCC and 1 Utama, 2 places I rarely visit. The fact its now in Sephora just makes it so much easier for me to get stuff from the brand! There are the usual department stores brand makeup too – Dior, Shiseido, Lancome, Estee Lauder etc.
Skincare Brands at Sephora Malaysia
The major part of the store is taken up with skincare. I found quite a few new brands available, one or two of which I found intriguing.The first one that caught my eye was Ole Henriksen.
Ole Henriksen selected prices: Foaming Cleansers (RM109), Face Mists (RM79), Moisturizers (RM199)
The colourful bottles attracted my attention right off the bat. They are also exclusively sold at Sephora here. Prices are on the high side though so I'll probably bide my time just in case my skin decides it likes the taste of this 😛
For those with acne prone skin, there is the famed Mario Badescu range of skincare.
Mario Badescu indication of prices: Cleanser and lotion (RM115), Creams (RM135)
Thankfully, not a range I'd be trying out any more – whew! 🙂 There is also Boscia skincare available which I'm unfamiliar with.
There is a small range of Organic skincare – Juice Beauty and John Masters Organics are available. Another skin friendly brand is Dr. Hauschka from Germany which I'd used before previously – I got mine from Singapore.
Dr. Hauschka and Juice Beauty are available outside of Sephora too at Skin Labs and the stand alone store respectively. However, I think having it in Sephora just makes it a heck of a lot easier instead of having to run to 20 different locations to buy products from different brands. In the background of this picture, you see the other major brands which are widely available in most department stores elsewhere.
Sephora too has their own skincare as well as bath and body care.
Not too familiar with the Sephora brand skincare. Has anyone tried it with any great success? You can also find some of the cosmoceutical brands here like Strivectin SD, Perricone MD, Dr. Brandt and Murad. Oh and very oddly, Baviphat.
Bath and Body brands at Sephora Malaysia
Speaking of bath and body care, I was quite pleased to see Soap & Glory available at Sephora here. Soap & Glory is a British brand of skincare and bath and body products which are really very affordable, yet of decent quality. I knew that they were sold primarily in Boots pharmacies (in the UK and Thailand) so I was surprised to see them at Sephora here. Still, it was a happy surprise 🙂
As their tagline says "You don't have to be bankrupt to be beautiful" and the prices reflect that, with prices ranging from RM25-65. The most expensive is the perfume spray at RM79 (I believe).
Soap & Glory has been a bit of a hit or miss for me (mostly miss for now) but it still makes me happy to see the brand because it reminds me of the UK and Boots pharmacies! LOL 😛
There is a small selection of Korres bath and body products. This is a Greek brand and gets quite a lot of raves (even if I didn't have too good an experience with the famed Guava scent)
It is a little pricey for a bath product at prices from between RM58-75 or thereabouts. I also saw Burt's Bees and… really. I can't remember. There's too many!
Oh and how could I not mention the Clarisonic! The Clarisonic is a gadget with a brush head for cleansing the skin which some people swear by. There is only 1 type available – the large set for face and body.
The whole kit retails at a whopping RM849 vs the US price of US$225. At today's exchange rate of about RM3:$1 I'd say that its inflated. If the exchange rate were to go up, then the gap might narrow. The brush head replacements retail at RM95. Still, I did not see many kits left so I guess people are still buying it. I'm dead curious about it, but I might go for the smaller more travel friendly Mia which is unavailable here for now.
Dotted throughout the Sephora store are large mirrors and testing stations – Beauty Bars where you can test and play with the products.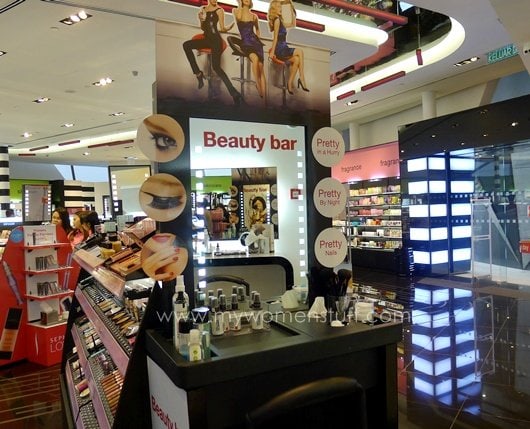 There are ample tissues, applicators and brush cleaners at each station, which I think is great. I did not see anyone abusing this privilege by swiping all the applicators or mascara spoolies available, nor making a mess, and I was curiously pleased. Throughout the store too are various shelves highlighting the bestsellers for various product categories, so you can pick up the star products without having to locate the counter directly. Can be a boon in times when one is in a hurry.
One thing I like is the availability of testers everywhere. Nearly every product has a tester which is of course wonderful so you get to try before you buy. There were sales assistants around, but the ratio of SAs to customers was quite surprisingly low. Good and bad. Good because there is less hassle, bad because you won't get help when you need it. I was approached by just one who was quite insistent for me to try some spray she was holding, but when I told her no, she subsided.
Fragrances are available throughout the store and notably at the wall closest to the cashier. For now, only the downstairs is open. There is another floor above, which I was previously told might house a Bliss Spa. However, there is a poster claiming an SKII standalone counter so it might be that, in which case I'm quite disappointed. I'd have preferred to have a Bliss Spa. I did not notice Bliss products but I might have overlooked them.
Overall perception of Sephora Malaysia
On an overall basis, I will say that Sephora Malaysia, despite the small floor space, does offer enough to satiate our beauty senses. It is a place where we can get all our beauty needs satisfied at one go, without having to go to this store and that. Saves a lot of time.
For the mainstream department store brands however, I might have more loyalty to the department stores like Isetan, where I hold their member card and can therefore pick up points or GWP. I would be less likely to buy mainstream brands in Sephora.
So I would likely hit up Sephora for the Sephora-exclusive brands, or new brands, or for brands that are hard to find elsewhere – Givenchy, Dr. Hauschka, Soap & Glory, Make Up For Ever etc. Its helpful to find them all under one roof.
In terms of prices, I think that barring the Clarisonic, the pricing is fair for the new brands like Urban Decay and Too Faced. Sephora Makeup too is priced very reasonably as well as Soap & Glory which is quite close to UK prices. I think prices are generally reasonable so if products I want are available locally in RM without too much of a mark up in prices, I'm happy to buy products locally.
Some people have asked me how prices at Sephora here compare to the Sephora in Singapore. I cannot remember prices of similar products in Sephora Singapore but just very roughly, I'd say that prices of products in Sephora here (comparing Urban Decay and Sephora Mono Eyeshadow) are equal to or a little cheaper than in Singapore due to the exchange rate. The UDPP is S$32 (RM78) in Singapore and RM75 here. Single UD shadows are S$30 (RM73) in Singapore and RM69 here. Single Sephora Makeup eyeshadowsare S$19 (RM46) in Singapore and RM45 here. Any disparity isn't too great so I'd shop here so you don't have to incur exchange rate losses 🙂
I know there's a lot of noise about why we aren't getting in NARS Cosmetics. Much as I too would like to see Nars come in (which I personally believe is just a matter of time) I think we shouldn't be too greedy. Let's take things one step at a time. When we didn't have Urban Decay, everyone wanted Urban Decay in. Now that we do, let's enjoy it and not whine about what we don't have 😛
So, Sephora Malaysia: Hit or Hype?
I'd say its a little of both. There's nothing in Sephora Malaysia that wowed me (I left with nothing as I have done with so many other Sephora stores elsewhere) but I like it that we have a Sephora store in our backyard. Just in case I want to… y'know… pick something up.
I hope this has been of some help to someone (or you might just be so sick of reading about it already). If you have been to Sephora Malaysia already, do share your thoughts. Did you think it a hit or a hype? 🙂
Paris B
Sephora is at Jalan Bukit Bintang, outside of Starhill Gallery (Louis Vuitton) and opposite Pavilion Kuala Lumpur. To get there, tell the taxi to take you to Starhill Gallery. If taking public transport, take the monorail to Bukit Bintang stop, exit through Lot 10 and walk towards Starhill Gallery.