The BB Cream madness continues. Have you noticed just how many brands now have a BB Cream or another? Sure, they may not always call it a "BB Cream". MAC for example, calls theirs a Beauty Balm and unless you are familiar with the whole BB thing, you may not realize its supposed to be a member of the BB Cream cult.
Mine came from Changi airport and for now, this is a travel exclusive. But I'm given to understand that that will change soon, so it will be available in MAC stores as well.
The difference I have noticed between Western versions of BB Creams and the Korean/Asian versions, is that the Western versions don't tout all sorts of miraculous all-in-one capabilities. The recommendation is to apply the MAC Beauty Balm after moisturizer and since it contains SPF35/PA+++, I'd say that the MAC Beauty Balm is actually pretty much a tinted sunscreen cum makeup base.
Regulars will know that I'm not MAC's biggest cheerleader, so really, how does this one fare then?
Its not too bad, all things considered!
The 30ml tube is small. It just about fits into my palm.
I tend to treat this one more like a light foundation than as a sunscreen, or simply as a makeup base. I use a separate sunscreen as part of my normal skincare routine so I treat this just as a complimenting product, with tint.
The MAC Cosmetics website says that Beauty Balm "is lightly tinted in a nearly sheer beige tone to work on an array of complexions". I don't quite agree. The MAC Beauty Balm in fact, has noticeably pink tones in its tint.
MAC Prep + Prime BB Beauty Balm swatch. Left: Blended Right: Unblended
I forgot to highlight it, but if you look towards the left of the dollop of cream, that's the portion that's blended. On my skin, it actually looks just a touch darker than the natural colour. It does not oxidise further on me which is probably a good thing and it also doesn't end up too dark on my face.
I use about a pea sized amount and the narrow nozzle of the cream allows quite precise dispensation of the Beauty Balm so that's a good thing.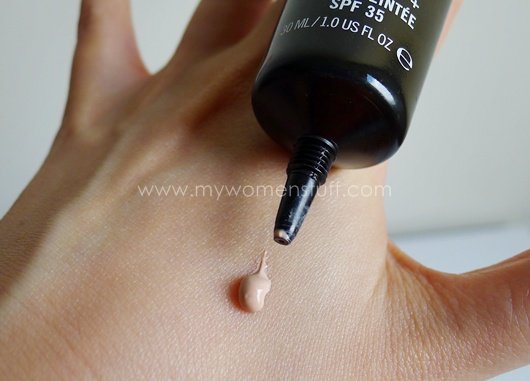 In terms of coverage, it is minimal. If you have very good skin already, it will probably be enough. If you have blemishes or pigmentation like I do, you will still need a concealer, and it only offers a little coverage for redness on the skin so I'd rather use something else, to be honest.
What is nice is that it does not turn oily on my skin. I have slightly drier skin to start with, and a common lament I have about BB Creams is how they turn my skin oily. This one does not turn my skin oilier than it should. Setting it with a touch of loose powder helps it stay looking fresh longer. If you treat this one as a makeup base, and apply powder foundation over it, it works very well to give much better coverage, hold and a good finish. It is therefore a great tinted primer with sunscreen.
The one thing that does place me on the fence a little is how it settles into my pores and does not make my skin look radiant. As a tinted sunscreen or tinted makeup base, I'd say it performs quite well. But you know, that isn't what a BB Cream is about, if this one's going down that route. If you already have a BB Cream that works for you, or are like me and still prefer using traditional foundation, whether powder or liquid, I'd say you aren't missing much by not getting this.
Pros: Light and Non sticky texture, Decent primer or tinted sunscreen, Does not turn oily on my skin
Cons: Only comes in 1 shade that has a bit of pink tint, Sinks into my pores a little, Minimal coverage
I don't have the ingredient list, sorry. I can't find my box 😛 If I do, I'll update.
This is travel exclusive here for now, but I think we should be seeing it in MAC stores soon enough. Most of the other "Travel Exclusive" BB Creams have already come to town, so this isn't likely to be an exception.
Have you tried this product? Its been out a while, and I've had mine for quite a long time 😛 I don't use it often because I don't like the texture as much as say the Diorsnow BB Creme and you don't need a lot (it can turn oily or darker if you use too much – at least that's what I found) so this little 30ml tube still has some ways to go.
Paris B
The MAC Prep + Prime BB Beauty Balm with SPF35/ PA+++ retails at US$30 on the MAC website and at S$31+ at Changi Airport. Local price and availability unknown.