With a name like Iron Maiden, I just had to go for this colour. Nevermind that it looked so dark and purple in the tube. Iron Maiden! How could you pass up a lipstick with that name?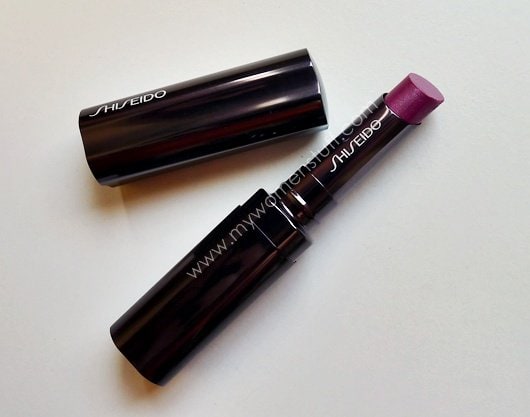 This is part of Shiseido's new range of Shimmering Rouge Lipsticks introduced earlier this year. As the name implies, the lipsticks have shimmer and shine to them. Nothing glittery, not to worry. There is just a hint of shimmer that impressively, has a lovely lip plumping effect to them!
Here is a close up of the colour in the tube.
Shiseido Shimmering Lipstick in RS308 Iron Maiden
Doesn't it look impressively purple?! I've never really worn a purple lipstick so this would be a first for me. Thankfully, despite how dark it looks in the tube, it does not swatch as dark. It is at once sheer yet pigmented which sounds like an oxymoron but isn't. Really!
Left: Swatched once Right: 3 layers
Here are the swatches on my arm. It doesn't look quite as scary now does it? In fact, I was pleasantly surprised to learn that it was a very pretty berry shade, that tends towards the cool end of the spectrum. One layer is pretty pigmented on its own and if you layer it 3 times, you get an opaque shade that isn't heavy nor cakey on the lips. Its lightweight and not drying for me and there is (quite wonderfully) no scent!
Also featuring: Skinfood Premium Grape BB Cream and Shiseido Luminizing Blush PK304
On my lips, Iron Maiden takes on a berry tone that I found very wearable. This is a colour I wear quite often and was, quite honestly, not the colour I expected to get from the tube. I expected something darker and brighter. I would have preferred a colour like that in the tube.
That said, I did like the lip plumping effect it gave my lips. The minute I swiped it on, I knew it was a keeper (despite the rather underwhelming colour) because my lips looked so plump and pillowy 😀 Mwaks! 😀
Pros: Lightweight texture, Pigmented colour, Can be sheered out, No scent, Lip plumping effect
Cons: Pricey
Apparently, this is the colour used on the model in the Shiseido Shimmering Lipstick ads. It looks deep plum on the model but not so on me. Perhaps its a colour that looks different on different people and skintones, as they do 🙂
Have you tried any of the Shiseido Shimmering Rouge lipsticks? I have another in a more conventional reddish shade which is just as pretty – might feature that if I run out before the days run out LOL! I think these are definitely worth taking a gander at. They last quite long on me without drying out my lips which is great. I've really been getting into Shiseido lipsticks recently – I wonder what took me so long?! 😛
Paris B
Shiseido Shimmering Rouge lipsticks retail at RM95 each at all Shiseido counters.
What is the 30 Days of Lip Swatches project? I will be showcasing and reviewing 30 lipsticks or lip glosses in the coming days. Lip products was chosen by popular vote from the readers. You may find all 30 days of lip swatches or follow it by clicking on the Lips category.
Previously : Day 6 of 30 : Maybelline Watershine Pure Diamonds #304