Are you sick of reading about Bella Bamba everywhere already? I must tell you that I was. I mean I jumped on the Bella Bamba hype the minute it launched about 5 months ago and I ordered it online; and then Bella Bamba exploded on the interweb into this "must have" blush and was everywhere! So much so, I got turned off, and didn't try it until much later.
And once I did, I could not stop using it. So I'm afraid you are going to have to sit through another Bella Bamba rave-fest 😛
Bella Bamba is the newest blush from Benefit Cosmetics and it comes in the new packaging which is a flip top box with a mirror inside. Truth be told, I don't like the new packaging. I had no problems with the previous packaging i.e. cover separates from the box and I don't need a mirror. The eagle-eyed have also noted that the new blush contains less product than the previous ones. However I did a quick look through my stash and I noted the following weight of Benefit's blushes:-
Dandelion – 10g
Georgia – 11g
Sugarbomb – 12g
Thrrrob – 12g
Bella Bamba – 8g
So I personally don't think its less product per se, but might have to do with density of the powder? Or maybe its less product. Either way, I'm not complaining very much because at 8g or 10g or 12 g its going to take you a while to get through a box of blush 🙂
Another packaging gripe is the psychedelic box. It makes it easy to spot in my stash, but otherwise, I don't like it. Xin has showed you how the flip top can hurt your blush so you really have to be careful when closing back the cover which closes with a magnet. Thankfully, due to her early warning, I am more careful when I close the cover.
Benefit describes Bella Bamba as a "watermelon blush". I don't see pink watermelons very often, but descriptions aside, I do like this color.
Benefit Cosmetics Bella Bamba blush
Its a pink tempered with red and coral tones and it is pigmented but really quite sheer, so its not so easy to make mistakes. If you are afraid of wearing blush because it makes you look like a clown, I do recommend you try Benefit's blushes. Lots of people don't like how sheer they are, but I do, because errors are minimized and layering is always easier than removing.
There is quite a lot of shimmer in this one though so do be careful if you plan to layer. But I don't think you will be because just 2 layers gives you a strong enough colour to get you through the day looking fresh as a daisy.
Also featuring Laneige Fresh Modernist lipstick in Modernist Pink
The swatch on my arm is with just 1 swipe of my finger. This is a pigmented blush. But if you use a blush brush, it does not apply so heavily and I use about 2 layers max to get a lovely flush of colour and just enough shine without turning you into a shimmer ball.
Pros: Very pretty colour, Sheer texture can be layered, Pigmented
Cons: Don't like the packaging
I have here a comparison swatch between Bella Bamba and some other blushes for an idea of colour.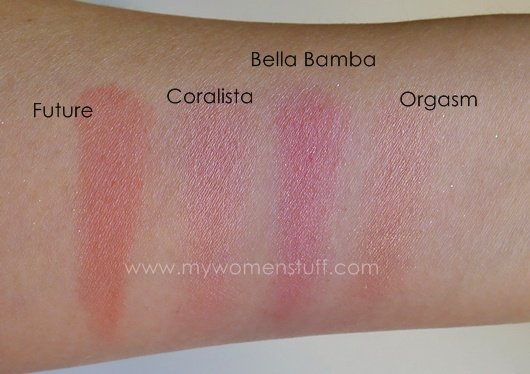 L-R: I Nuovi Future, Benefit Coralista, Benefit Bella Bamba, Nars Orgasm
You can see from the swatches that Bella Bamba is noticeably more pink but yet it is quite a neutral tone not being too warm or too cool and I personally believe, it will suit most skin tones.
So have you fallen into the Bella Bamba trap? If you did, do you like it? If you don't have this one, are you thinking of picking it up? I don't think you'd regret it one bit 😉
Paris B
Benefit Bella Bamba blush retails at RM130 at Benefit Cosmetics counters locally and US$28 online.