I don't know if anyone notices, but March every year is all about whitening products. Every brand out there comes out with something new in their whitening or brightening range, and its all such a mind-boggling array of products it just throws you out of whack. So, I like to buck the trend, and NOT inundate with you with news of whitening products then. In fact, I like to buck the trend, period. I'm not a mag, thank you 😛
But part of the reason I have to buck the trend is because I only got my hands on some whitening products in March so there's no way I could have told you about it then. One of the products I got my hands on was the Shiseido White Lucent Spot Targeting serum.
Its not new but its new to me 🙂 I've tried some products from the White Lucent line a few years ago, and I found them alright but nothing quite spectacular. What caught my attention was that this serum promises to lighten dark spots and brighten skin within 14 days. Ooh boy! Let's put them to the test! 😀
Here's a before and after shot of the same part of my face, which is my cheek area. I have freckles and pigmentation on my cheekbones and let's be honest, nothing I've used in the many years I've been messing with skincare will ever get rid of them. The only thing I can hope for is some lightening of the worst afflicted areas.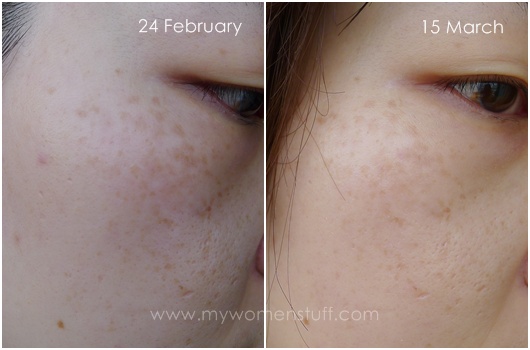 I've kept the images intentionally untouched. I didn't even brighten them so these are literally photos off my camera. Comparing the two, I would say that there is some very minimal lightening of the darkest spots and perhaps the skin in the after shot looks a little less blotchy overall, but in the main, any difference is quite minimal.
I was using this serum for about a month in total, and on its own, I'd say that there isn't a drastic brightening or whitening, used on its own. However, if I pair it with a day and night moisturizer with whitening properties (both from different brands) the results were more significant.
This supports my theory that if you really want to lighten or brighten your skintone, you really have to have at least a serum and moisturizer in the whitening range of skincare to see the best results. However, if you aren't overly fussed, but just want to keep the pigmentation under control as I do then perhaps a serum would be sufficient.
The serum itself is quite light and I use about 1.5 pumps for my whole face, concentrating on where the pigmentation is worst. I was out in the sun quite a bit while I was in Singapore one weekend, but I had this with me, and I do believe that this serum did help control the pigmentation from getting out of hand, as it usually does after a bout of prolonged sun exposure. It could have been worse, who knows!
Pros: Light serum, Absorbs quickly into the skin, No breakouts, A little lightening effect
Cons: Pricey, Results may vary from person to person
If you are planning to try this serum, make sure you pick up a complementing whitening moisture cream as well, to see the best results. The products I tried previously from the White Lucent lineup weren't bad so that's a good place as any to start 🙂 I always allow Asian brands a bit of edge over their Western counterparts when it comes to whitening skincare. They've been at it a lot longer, and that's where the market really is so they have to make sure they work! 😉
Have you tried anything from the Shiseido White Lucent line? Or how about this serum? Keen to give it a go? You could see how it fared for gal-pal Xin over at PrettyBeautiful for an alternative point of view 🙂
Paris B
Shiseido White Lucent Intensive Spot Targeting Serum retails at RM410/30ml at Shiseido counters.