There are spas you visit and think "Erm… its alright" and there are spas you visit and think "I want to come back and I'm going to tell everyone about it!" Poise Organic and Wellness Spa is of the latter category. A bit of a hidden gem, I would never have unearthed it had Connie and Gillian of Poise not contacted me to stop by their relatively new spa and take a look.
Poise Organic and Wellness Studio is located in a semi-detached 3 storey house in the Old Klang Road area of Kuala Lumpur. Its essentially a housing area just behind the Pearl Point Shopping Centre. I've got a map below to show you just where it is. Parking can be a bit of a problem if there are many customers, as the compound isn't very large. From the outside, it looks just like another well renovated house.
Stepping into the waiting area is like stepping into your best friend's living room. The staff are friendly and you are made to feel welcome with tea, while you choose your massage oils and body scrubs (all of organic origin). I was having a "Your Choice Getaway" – 155 minutes of a body scrub, body wrap, massage and relaxation break. Sounds absolutely decadent!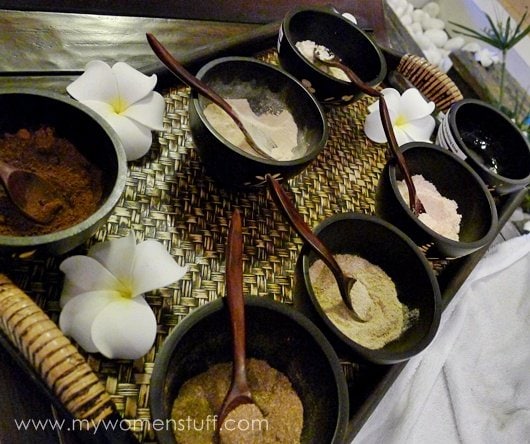 Once you choose your oils and scrubs, you are led upstairs to the treatment area. This is right on the third floor, and I was informed that the wet area where the body scrub and wrap is to be, is separate from the dry rooms where the massages are performed. The rooms are all couple rooms with two beds so you can go with a friend, but if you are just one person, they of course won't make you share.
An interesting point to note about Poise is that they cater primarily for women. I must say that it is a nice place to meet up with a bunch of girlfriends and just hang out while you relax because its got a lovely ambiance. They do not admit men as a matter of course, unless accompanied by their female guests so those who'd like to bring their significant other may do so, but otherwise, no men are admitted.
Your belongings can be kept in a locker in the yoga room (yes there are yoga lessons there too) with the key kept with you at all times. From there, you are led to the wet treatment area which is, interestingly, an open-air concept.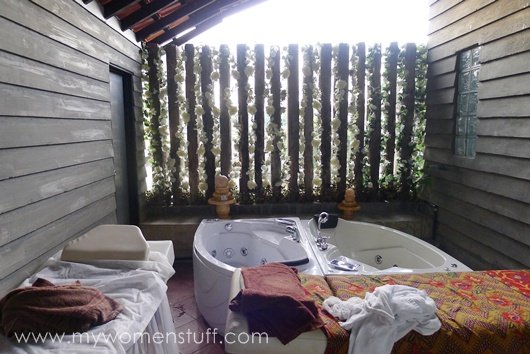 Not 100% open air (it'd be too hot or hazardous if it rains) but its open and a very interesting concept. You start off with 20 minutes to yourself – 10 minutes in the steam room and 10 minutes in the jacuzzi.
There are 2 treatment beds and 2 jacuzzi so 2 people can have their treatments at one go. If more people wanted to have the spa treatment I don't know if they can accommodate or if you'd have to wait your turn.
Once your 20 minutes is up, the therapist comes back into the room for the body scrub and body wrap. I chose the coconut scrub and wrap for something different. And I found the body scrub a little different from what I'm used to too. The therapist really scrubbed every square inch of my body. As in scrubbed. It wasn't painful and in fact, it felt like I was already having my massage. After that, some warm coconut solution was applied over my body, and I was wrapped up like a packet of nasi lemak and left to marinade for about 15-20 minutes. It was a warm evening at that point, and I'm quite sure I dozed off.
Once the time was up, I was asked to step into the steam/shower contraption and have a shower to wash off the scrub and wrap. Interestingly, I did not smell too much of coconut, and my skin felt lovely and smooth and soft. It was however a little oily which was to be expected from coconut so I took a while to shower. Do take note if you opt for the coconut scrub and wrap. I'm not sure about the others but I'm going back to give it another go, so I'll find out then 😀
Once you're done and wrapped up in your bath robe, you are led downstairs to the treatment room. As I'm in a predominantly women only place, I'm less fussed about this. I do however, prefer that wet works be located closer to the massage rooms to minimize exposure when you aren't quite looking your best or clad in much other than a robe. The rooms are air-conditioned but aren't too cold so its all quite comfortable. Although the body scrub and wrap was nice, what I must really commend Poise for, is their body massage.
The lady I had was amazing. Her fingers sought out every knot in my stiff back, neck and shoulders and massaged them away to leave me feeling light as air. I was dozing for most of the massage which really says a lot. It was that relaxing. Granted, you might not take my word for it, so to test the service and quality of the massage, I sent my friend along the following week to give the massage a go. The feedback that came back to me was pretty much what I just told you here. An excellent massage that left us feeling so relaxed.
For those of us who work in offices and are hunched up over our computers all the time, you'd probably know the sort of tight feeling I mean, around the back of your neck and shoulders. The massage I had here was one of the few that managed to catch every knotted muscle and knead them out again. I'd go back just for the massage.
Pros: Lovely relaxing ambiance, Interesting outdoor concept for wet spa treatments (body scrub and wrap), Comfortable massage rooms, Good masseuse
Cons: Traffic getting into and out of the Old Klang Road area can be awful, Parking spaces are limited, Wet treatments might be limited due to limited space and you have to exit the wet area to get to the dry rooms.
So, how much will 2 hours and 35 minutes of indulgence set you back? RM159. Even I was surprised. I expected it to cost more so of course I was happy. In fact, a 90 minute body massage costs just RM90 which I think is a perfectly reasonable amount to pay for a good massage and the 5 star service you get. Its going to be hard to pay more at other places now.
I was told after that, that Poise does offer a special rate for first time customers. A 90 minute massage is just RM60 (friend confirmed this when going for the massage) and my friend also told me they bought a spa package just like the one I had, at about RM275 for 2 sessions which you can use for yourself or use with a friend. That's such an amazing deal! I didn't know about the spa package deal but do ask if you might be interested. I'm booking my sis and Mom for a session the next time they're in town 🙂 Reservations are advised. Poise has just won an award for Best Day Spa Design at the Malaysia Spa & Wellness Awards 2011 so bookings might be picking up.
So, as I said, there are spas that make you want to tell everyone about it. Poise Organic and Wellness Studio is one of it and aren't you glad its not a bank-breaking indulgence? 🙂 If you have been there, I'd love to hear what you thought of it. My friend liked it as much as I did and if you go, I hope you will enjoy it too! I'm headed back for an organic facial one of these days. I'm curious to know what that entails 🙂
Paris B
Poise Organic and Wellness Studio is at 205, Jalan Sepadu, Taman United, Off Jalan Klang Lama, 58200, Kuala Lumpur. Tel +603.7980.8890 Opening Hours: 9am-8pm. or find them on Facebook.