In the past month or so, I'd been on a bit of a skin brightening binge. I had a touch of sun before that and I wanted to get my skintone evened out again. I'd told you what I'd been using in the day (Laneige White Plus Renew Daily Protection Cream) and here's what I was using at night. They are both from different brands, but the functions are the same i.e. whitening/brightening so the ultimate aim would also be the same.
I must tell you that I'd tried a sample of the Clarins White Plus HP night cream from last year and I did not like that one. I actually found that terribly drying on my skin. Most whitening products do tend to be drying, if you notice. But that one hit it out of the ballpark. This new formulation however, isn't. Thank goodness!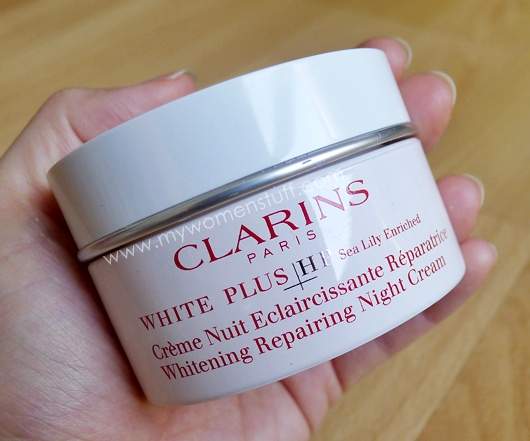 This year, Clarins not only formulated their White Plus HP Night Cream with Sea Lily Extract, they included Daisy extract to control and slow down the production of melanin at night and to combat the stresses and UV effects of the day. I'll just quickly tell you how it went for me.
The texture of this cream is very light. It almost feels like a lotion-cream, so it spreads very easily on the skin and best of all, feels moisturizing once on. Granted, it isn't as moisturizing as some other night moisturizers I've used, but a drop or two of my magical Kiehl's Midnight Elixir solves that problem in a pat!
If you look at the back of the porcelain tub (and might I say just how much I enjoy creams that come in a proper glass tub) you will note that Clarins recommends that this cream be applied with a light pressing motion on your skin.
How I do it is to put a dollop of cream in my palm (a spatula is thoughtfully included), spread it out and then lightly press it on my face instead of wiping it on. Makes sense? I hope so. I think its just Clarins' technique. Their cleansing cream is applied the same way and if you go for one of their facials, you'll notice they press everything onto your skin. Something to do with "pushing" the product into your skin although I'm not quite sure how that works.
Still, used regularly every night and with a complementing day whitening cream, I did notice that my skin tone evened itself out in general and I did regain my regular shade once I stopped going out into the sun so much. The pigmentation spots are still there but then I am resigned to having them there forever. Its good enough that it does not become worse 🙂
Pros: Light pleasant fragrance, Not drying unlike its predecessor, Did lighten and brighten skin with regular use
Cons: Pricey, Glass pot will not please the clumsy
I go through a whitening or brightening regime once or twice every year. I don't use whitening products on a regular basis because I don't find them moisturizing enough in general – do you realize that? Whitening creams just aren't as moisturizing as other creams and I do need my hydration.

This is the Clarins White Plus HP Whitening range available here, and I am rather intrigued by the exfoliator. It does feel quite nice on the skin and I believe it may be new or also reformulated. However, exfoliators last so long that by the time I run out and want to buy a new one, there's already something else newer out there.
Have you tried this cream or anything from the Clarins White Plus HP line? Or do you have a whitening or brightening cream that you like that you use regularly?
Paris B
The Clarins White Plus HP Repairing Whitening Night Cream retails at RM240/50ml at all Clarins counters and Institutes