The Diorskin Nude Natural Glow Sculpting Powder isn't new. Some time last year, some readers asked what I thought of this powder foundation. At that time, I did not have it, nor did I try it so I couldn't share any views. Now that I have, and am happily wearing it, I do have some thoughts on this powder.
Despite the complex sounding name and the complex look of the powder, what this really is, is a powder foundation. I have it in #011 which is the second lightest shade. The lightest shade is #010 which is a tad pale. But why are there 3 shades of powder in the pan, you ask?
Well, there are 3 different textures to the powder foundation. The top is the lightest shade and is supposed to illuminate. The middle is the darkest shade and for sculpting. The lowest portion is a unifier which is the primary shade to match to your skin tone.
You are supposed to be able to use each of the shades by themselves for different purposes. The middle shade can be used for contouring if you are into that. I like to just use it mixed together, because I'm not good at contouring, and I honestly can't be bothered 😛 Besides, I tried to pick up the individual colours and its just too small a section to use this way although using the brush provided helps a bit. I prefer it just swirled together, and when I do so, #011 is my perfect shade with just a touch of dewiness, yet remains pretty much matte all day. And I have to say I absolutely love this powder foundation!
I'd been playing around with liquid foundations for a while now, but the day I went back to using powder foundation, I went back to this one from Dior, and I have been loathe to go back to liquid foundations again. Powder compact foundations are my first love because in our heat and humidity, I find powder foundations last the longest on my skin and look the best all day.
Its wonderful to rediscover an old love, and to rekindle that love with a product that works so well for me 😀 This Diorskin Nude Natural Glow Sculpting Powder foundation sits on my skin with a featherlight texture, keeps it looking natural and dewy all day long and does not dry my skin nor look cakey.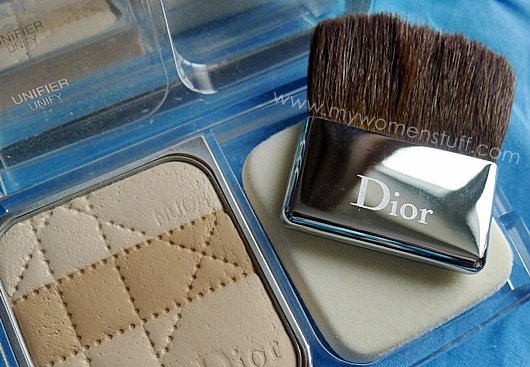 There are a few ways you can apply this foundation. I like using a brush. In fact, the brush supplied with the compact is perfect. It delivers a smooth light coverage that is quite ideal. Sometimes, when I use a regular powder brush, it can go on a little too thick. So use the brush supplied. This might be the first and last time you see me telling you this 🙂
In the alternative, you can use the sponge. The sponge has 2 different textures. On one side is a velvety texture which applies the powder sheer (which is perfect for me) and the other slightly rougher side (rough being relatively speaking) applies it a dab thicker. I usually use the velvety side.
And here's a swatch of #011.
You can just about see a slight difference in the 3 different colours, swatched on the back of my hand. Once blended together, its the perfect shade for my skin and I love it!
Pros: Good colour match for my skin, Light silky texture, Not drying or cakey, Does not slip or slide off my skin, Lasts all day on me
Cons: Pricey (but cannot remember price for now)
The compact comes in 2 parts – the case and the refills, so you can replace the refills without having to buy another set (at least I think so!). The case is rather bulky and I'm not so thrilled with the clear base but I also recommend you keep the case in the velvet bag it comes in, because the brush fits just nicely into the pocket in the front of the velvet case so you can carry around the brush and sponge everywhere you go.
I love this one and I forsee myself hitting pan on it. Coverage is sheer-medium for me, although if you use a denser brush or a sponge, you do get better coverage. There's also SPF10… but doesn't mean very much to me since I already have sunscreen on.
This powder has been around for a while by now, so if you have already tried it, do share your thoughts yes? I love it as you can probably tell from all that gushing 😛
Paris B
Dior Diorskin Nude Natural Glow Sculpting Powder Makeup foundation is available at Dior counters at RM195 (Thanks Melchewvin) and US$50 in the USA. Shades available locally start from 010 and there are (I believe) 6-8 shades available.