Alright then, hands up whoever's been reading MWS long enough to remember that I first told you about the existence of the Maybelline Pulse mascara way back in May 2009? Anyone? 😉 I mentioned there that it was not being brought into Malaysia at that time, and that it retailed for US$15 in the USA. My projected price was RM60 which you know, isn't too far off the mark and yes, its here in Malaysia for a limited time I believe at RM59.90 😀
Anyway, at that time, I did say "Oh darn! Not another vibrating mascara!" and I will say it again "Not ANOTHER vibrating mascara!" This one, being from Maybelline and therefore under the L'Oreal group, I was not surprised to note that it operated on the same principle as the Lancome Oscillation mascara – the vibrating wand is activated by way of a button that you press so it is vibration on demand. Much better than anything that starts going the minute you open the tube, trust me on this.
Before you use it however, take note that you have to pull off the tab at the top, which removes a plastic bit and allows the battery power to run through the cap. Bit of elementary physics there 😉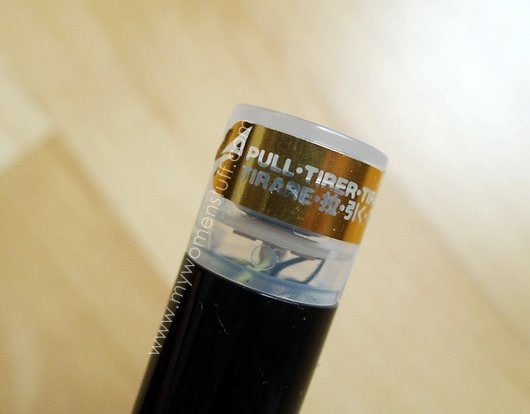 Sometimes, one does have to pay a little bit of attention to details 😉 But all this swankiness aside from Maybelline, do I like this little buzzing wonder? Would it surprise you to know I do? 😀
Yep, I do like the Maybelline Pulse Perfection mascara. I wasn't too enamoured with its higher end sister from Lancome and at nearly RM60 its not a cheap mascara either. However, what I do like about it is not so much of the novelty, but the brush and its formula.
Here's the brush. I love mascara brushes like this one – slim, with little short bristles that grab onto your lashes like thorns. Erm… not very good imagery there 😛 But truly, this brush is excellent for me!
Also, I like the formula. Its not too thick as to be clumpy and its not too thin as to do nothing. As a package, the Maybelline Pulse Perfection mascara adds volume and length to my puny invisible lashes and holds them up all day! Here's the proof in the pictures 😀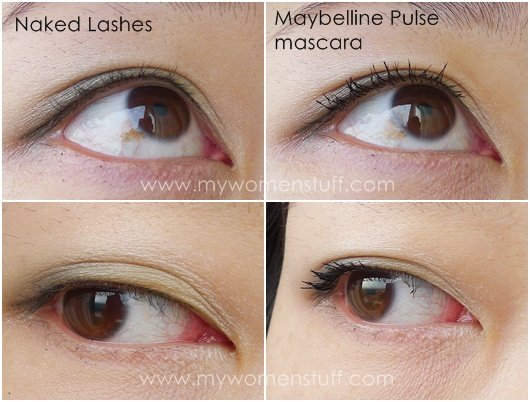 Maybelline Pulse Perfection mascara before and after photos
You can barely see my lashes in the before pictures and the after pictures show just 1 coat. I apply the mascara on curled lashes because it can't curl my stubborn lashes, and because its just easier to apply mascara on curled lashes.
I usually wipe off excess mascara on the edge of the tube (there is very little excess which is great!) and position the wand just at the base of my lashes, and then depress the button at the end of the cap. The buzzing tells you the wand is "pulsing" but you still have to move your hand to direct it where it should go. Perhaps its my imagination, but I do seem to get thicker lashes with just 1 swipe (as you see in the photos) with this mascara than if I were to do it manually. I did try it manually, and I needed at least 2-3 coats to get that sort of volume.
Removing the mascara is easy for me. I use cleansing oil and with warm water, the mascara washes out quite easily and does not smudge at all throughout the day. RM60 is a lot for a pharmacy brand mascara, but in this case, I'd say its worth it. Perhaps I should get a backup since it might be limited edition here. Hmm…
Pros: Slim wand with short bristles that manage to grab most lashes easily, Easy to use, Adds volume and length faster than when applied manually, Easy to remove and does not smudge on me
Cons: Pricey for a drugstore mascara, Gimmicky
Have you picked up this one? Its been around for a bit. Or perhaps you refuse to buy into the vibrating mascara wand hype? At half the price of a Lancome Oscillation, I'd pick this one up in a heart beat. It works better and is less clumpy on me than its more expensive sister 🙂
Paris B
Maybelline Pulse Perfection mascara retails at RM59.90 at most Maybelline counters at major pharmacies and is possibly limited edition in Malaysia.