I don't usually use whitening products but once or twice in a year I do, especially when I've had a touch of sun or when I feel my skintone is looking too uneven for its own good. Usually its the former reason. This year, my whitening regime consists of a day cream and a night cream, but both from different brands. In the night, I'm using the Clarins White Plus HP Night Cream (review to come later today) and in the day, I'm using this one – Laneige White Plus Renew Daily Protection Cream SPF36 PA++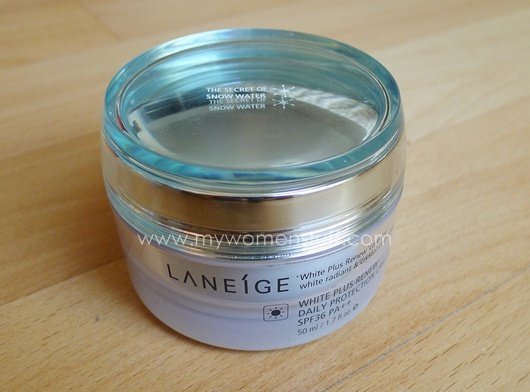 I'm not too familiar with Laneige as a brand, and my previous trials of Laneige products didn't quite wow me. I'm not all WOW now either, but I must say I quite like this particular cream. For those of you who aren't into using sunscreen, this would be a winner in your books because of the high sunscreen protection included 🙂
This day cream is a proper creamy texture. However, the nice thing is that despite it being a cream, it isn't heavy on the skin at all. A spatula is included for you to scoop out the cream and I do find that it sinks into my skin quite quickly. On my combination-dry skin, I must say that its not too shabby.
It does not turn my T-zone too oily throughout the day, and generally feels comfortable on my skin. That said however, I do find that this cream may not be suitable for those with dry skin because my cheeks tend towards being dry and whilst this cream does not make them uncomfortable, it does not offer too much hydration either. So in my case, I apply a hydrating serum before I apply this moisturizer and everything's fine.
I like that the sun protection included is sufficiently high at SPF36. If you don't go running out in the sun too much and stay indoors a lot e.g. in the office, then this would likely be sufficient for you. The question of course, is whether you would apply a thick enough layer for the SPF36 protection to be truly effective. Quite a bit of conundrum there and believe you me, sun protection is a neverending debate that I don't really want to get into because I just don't have that sort of insider knowledge.
Oh and you would of course want to know if it did help brighten and whiten and my answer is yes. However, I must say also that I've been using this for over a month, together with a whitening night cream, with extra sunscreen and I stay indoors a lot. So it does help even out the skintone, yes. But do not expect miracles because there are so many other factors to consider 🙂
Pros: High sun protection included in the cream, Cream absorbs easily into the skin and does not make the skin oily,
Cons: A little drying if you have dry skin
Laneige has changed the name of their whitening series, if you notice. It was something to do with crystals before this but its now standardized to White Plus Renew.
The star product here is the essence and I liked playing with the Foam Cleanser. I have a soft spot for foam cleansers even if I don't quite believe in whitening cleansers – I feel its a bit of an oxymoron because its on your skin for such a short time to have any effect. Still, if I do see it at a good price, I will not say no to trying it 🙂
Have you tried anything from Laneige White Plus Renew range? Or perhaps from Laneige in general. Do you have any favourite products from the brand? I'm all ears! 😀
Paris B
Laneige White Plus Renew Daily Protection Cream SPF36 PA++ retails at RM165/50ml at all Laneige counters