Happy Saturday Ladies!
This is the Easter weekend so to everyone celebrating, I wish you all Happy Easter! 😀
Here's some quick bite-sized news on whats new in town and on the shelves.
Clinique SAYLI Counter at MidValley Megamall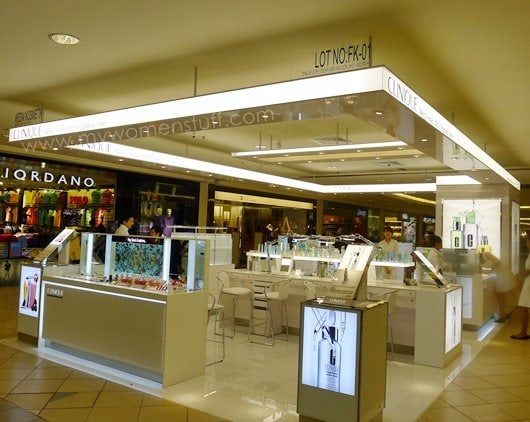 You might have noticed this counter pop up at MidValley Megamall in the last month. Its a new concept in cosmetic shopping, where Clinique has opted to bring the counter to you so you can "Shop As You Like It" (SAYLI). At this open counter, you are welcome to browse the makeup and skincare unhindered by sales assistants , but if you need help, the SAs are there to help. I find it easier to browse colour makeup by myself, but I do prefer some assistance with skincare so this concept counter strikes a good balance.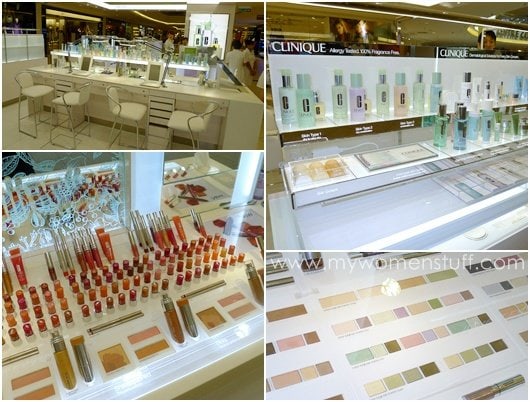 I stopped by to pick up some items, and for once, I was not being tailed everywhere by the inquisitive SA, making unwelcome suggestions as to what I should or should not get. When I asked her opinion, she was helpful. Otherwise, her presence was unobtrusive. I think that was instrumental in my actually spending money there (to get a really nice gift with purchase ;)). I also noticed that in the 20 minutes I was there, at least 4 women stopped by, browsed, asked a few questions and left with purchases. I guess the concept does work!
Clinique Service As You Like It store is located at Lot No: FK-01 1st Floor, MidValley Megamall (in front of Giordano)
MAC Cosmetics Quite Cute Collection
I was invited to take a look at the MAC Quite Cute collection and was an hour late due to torrential rain and awful Friday traffic. Quite Cute is a collection of mostly pale pastel hues and bright pinks. A cursory glance told me nothing interested me. I was right, until the SA offered to try a blush on me, and she used Giggly, a pink mineralized blush with a sparkly purple heart embedded in the middle.
I must say Giggly is adorable in pan and on skin. Its a mid-toned pink with cool tones and did not seem overly shimmery on my skin. I liked the fresh pop of colour my cheeks. However, I was not too pleased with the rather powdery texture. I dithered for a bit as to whether to get it…. ok. I dithered A LOT, but left without picking it up 😛
MAC Quite Cute collection is limited edition and is available at all MAC stores and counters. No prices but the Mineralize blushes are RM100.
Kiehl's x Pharrell Williams Complimentary Eco-Tote
Kiehl's has teamed up with Grammy winning singer, producer and fashion designer Pharrell Williams to design a limited edition eco-friendly tote. Each tote is manufactured with Bionic Yarn fabric and includes 9 plastic bottles – Bionic Yarn fabric is made from fibers obtained from recycling plastic bottles – just another way plastic can be reused. (I might have just crawled out from under a rock, but I have no idea who Pharrell Williams is 😛 I hope I'm not alone) That aside, I applaud Kiehl's efforts because this Limited Edition Eco-tote is coming to you FREE once you return 12 Kiehl's empties to the store. This has a tri-fold benefit – you stay loyal to Kiehl's; you recycle your jars, tubes, bottles etc; and you get a free limited edition tote bag! I have a few Kiehl's empties to return, but I'll need quite a few more. So don't toss your Kiehl's empties – it could net you a free "designer" tote 😉
Kiehl's x Pharrell Williams Eco-Tote is complimentary with the exchange of 12 Kiehl's empties (full size) and is available from April 2011 until further notice.
Garnier Mineral Deodorant says goodbye to sweat and odour
I haven't used these, but the inexpensive Garnier Mineral Deodorant promises to leave you feeling dry and non sticky all day long. The active ingredient of Mineralite can retain up to 4 times its weight in water, is more absorbent than talc and dry and soft to the touch. It even promises not to stain your clothes or show through your clothes! I don't know about all that so if you have tried this deodorant, do share your thoughts on it 🙂
Garnier Mineral Deodorant comes in 2 sizes (20ml and 50ml) and 4 different types and retails at RM3.90-RM7.90 each.
Vichy Normaderm Tri-Activ Anti-Imperfection Hydrating Care (New in May 2011)
Vichy has improved on their Normaderm Anti-Imperfection Hydrating Care moisturizer by incorporating in it, dermatological peeling ingredients using Salicylic Acid (loosens dead skin cells that cause clogged pores and anti-inflammatory), Glycolic Acid (exfoliation and cell renewal from deep within the skin) and Lipo Hydroxy Acid (gentle exfoliating agent that optimizes cell renewal). It also contains Silica controlling sebum and Thermal Spa Water and Glycerin for continuous hydration.
What this means is a moisturizer that helps combat skin imperfections, and mattifies without drying it out. I tested some on the back of my hand, and it feels quite nice on my skin. I have tried the Normaderm Anti-Imperfection moisturizer from before which I found a little drying for dry skins. I'm a little curious as to whether this one will be the same since they do say its more hydrating than before. Oh and even better news, Vichy dropped the prices! The 50ml bottle was RM100 before but its now RM79 and also comes in a trial sized 30ml tube at RM49 which I think is excellent for trying out 🙂
Vichy Normaderm Tri-Activ Anti-Imperfection Hydrating Care retails at RM49/30ml and RM79/50ml and will be available from May 2011.
Whew! Was that a lot to take in? Felt like a lot to me 😛 Still, I'm sure there's something in there to suit each of you and MAC is I'm sure one of it 😀 So tell me – are you planning to check out the MAC Quite Cute collection or have you picked up items from that collection already?
Have a good weekend everyone!
Paris B