I'm not sure if anyone remembers when I first told you about the Lancome L'Absolu Creme de Brilliance lip gloss/liquid lipstick? They had Kate Winslet as their ambassador and I was terribly taken in by the ad and the idea of the lipstick. When I told you about it, Lancome Malaysia told me they weren't bringing it in. I was disheartened.
So when a friend from Canada (*waves at Blu3*) was visiting a year ago, I asked if she could pick me up one of these to try, which the darling girl did. The colour I chose is Exotic Orchid which is described on the Lancome website as "muted cool berry rose".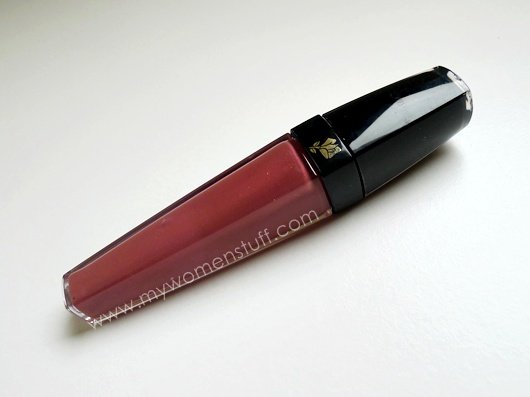 What it is to my eyes is a cool berry (no rose) and its a very lovely and wearable colour. I'm not trying to tell you about something we can't get here (hence why this has taken so long). We now get Lancome L'Absolu Creme de Brilliance at local Lancome counters! 🙂 We don't get Exotic Orchid though so this is still pretty exclusive hehe… I'll tell you about texture though.
This is a lipgloss… or a liquid lipstick, depending on how you look at it. I look at it as a liquid lipstick because it feels like one and wears like one. Its not super shiny or glossy like a gloss is and its very pigmented.
I like the applicator. You might see this shape in one of the L'Oreal lipglosses too. It applies the product over a bigger surface and for me, gives a smoother look because you can cover the whole lip in one swipe.
It feels light on the lips and is pigmented and lasts for me without drying out my lips. I use this quite a lot because Exotic Orchid is a very neutral sort of colour that goes with nearly every look. Its also slim and easy to carry around and the applicator makes everything quite idiot proof.
As I have noted, the formula does not feel heavy or glossy or shiny. If you look on the website, they show the swatch of Exotic Orchid having shimmer. Perish that thought! There is no shimmer and scent in this thing, which is why I like it.
Here's the swatch on the back of my hand. Looks a bit darker than on my lips but that's how it is in real life too.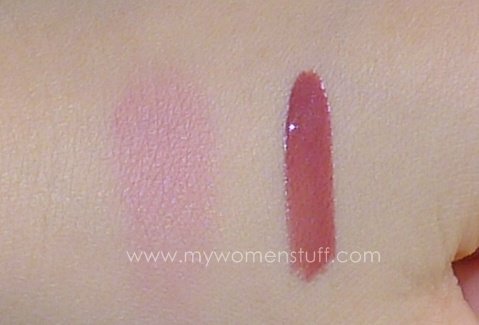 Pros: No scent, Lasts on me, Not drying, Not highly glossy, Feels light on the lips, Applicator is very useful
Cons: Colours available locally are quite limited
Mine came from Canada so with exchange rate and taxes and all, I ended up paying quite a lot for it. Locally however, it retails at RM75 which is pretty affordable. I don't know why Lancome hasn't trumpeted this product locally because its a winner by far in my book! Come on Lancome, tell people about a winning product already! 😛
If you have tried the Lancome L'Absolu Creme de Brilliance, please share if you like it as much as I do 🙂 Or do share if there is a colour you really like in this range 😀 I want another and coming from fickle little me, that's saying something.
Paris B
Lancome L'Absolu Creme de Brilliance Lipgloss/ Liquid Lipstick retails at RM75 at Lancome counters. Colours available locally are quite limited.