Everytime I've sat myself down to tell you about the I Nuovi Illumina highlighter/base/primer, something distracts me. Or I start thinking about the Illuminati and run to dig out Dan Brown books. So this time, when I sat down, I told myself I'd FINALLY tell you about this product which is long outstanding and which is something I really like.
Illumina by I Nuovi Cosmetics is a highlighter. "Not another one!" I hear you sigh. Well, yes, its another one. But unlike many highlighters we've come across, it isn't disco ball glittery, nor is it super shiny and its quite hard to make a mistake with this one. It is in fact, very subtle and it is thanks to Illumina that I'm able to use my Clarins Everlasting liquid foundation without looking flat as a pancake 😛
I personally think that Heaven will be suitable for most skintones despite the fact its white. The reason I say so is because although the lotion looks white, it sheers out with a very pretty iridescence with very slight pink tones which help brighten the complexion. You can see what I mean in the swatch below.
Here is a swatch of the Illumina in Heaven.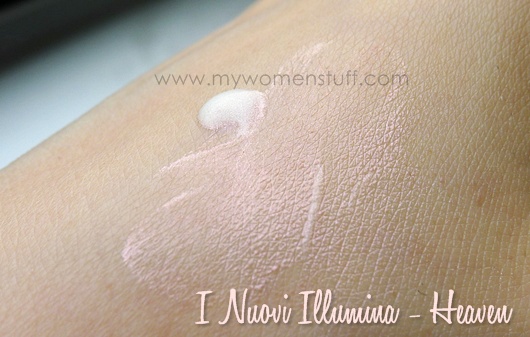 See the pretty iridescent shimmer on the skin when sheered out? It isn't super shimmery and it most certainly isn't glittery, and it adds a nice glow to the skin.
I Nuovi says that you should use this as a base before foundation. The faint pink tones do help brighten the skin and prevent you from looking sallow. It is also very light on the skin and not sticky. However, I don't like using it as a primer. What I like to do is use it to add oomph to liquid foundation, and I think it works beautifully for that.
So, I squirt 1 pump of liquid foundation into my palm, and 1 squirt of Heaven, blend and apply on my skin. Its undetectable but the ensuing glow on your skin tells a different story. If you need to look like you're awake, chirpy and bright-eyed and bushy tailed, look no further.
You can also take a dab and apply it as a highlighter. Draw a line down your nose and on your cheekbones and blend it out. Add some to your brow bone. It adds a very subtle highlight to your skin without making you look like a discoball. It is, in fact, Heaven-ly! 😀
Pros: Very subtle highlighter, Versatile product that can be used blended with foundation or over or under foundation, Boosts a healthy glow on the skin, Slim and portable
Cons: None
I don't have much quarrel with the packaging. Its slim and practical and it dispenses through a nozzle which is very useful. It is also great for travel. I wear very little makeup when I travel for fun, so having this one on hand is very useful for days when I've had little sleep or a long flight. It makes your skin look glowy and radiant, and best of all, it looks great in photos without making you look shiny, oily or glittery. Try it – you might like it too!
The I Nuovi Illumina highlighter comes in 3 shades. You can see what Connie thought of Divine – bronzed. I couldn't wear that one. Its too warm for me but if you have a warm skintone that could do with a bit of boost, give that a go.
Have you by any chance tried this one? I Nuovi Cosmetics has all these hidden gems that should really be flying off their shelves if we could find a counter or store more easily. I do think this product is a keeper, for me at least 🙂
Paris B
I Nuovi Illumina comes in 3 shades and retails at RM88/30ml at I Nuovi counters and stores or US$39 on I Nuovi online which ships worldwide.