Last week, I showed you this bright yellow and pink blush and had you suggest ways to use it. Isn't it such an unusual colour for a blush? I mean yellow. Really.
You do know that that pretty white intricate lace overlay is just spray on? It brushes off with use and really serves no purpose at all. You can see a smudge also where my finger got onto it the day I got it. Made it easier to defile this one 😛
In the meantime, I also got in touch with an Anna Sui makeup artist to find out just how one could use this very interestingly coloured blush. I was told there were a couple of ways you could use it all of which involved mixing the colours.
Yes dears. We do not walk around with splotches of yellow on our cheeks… unless we have contracted malaria 😛
Once you brush off the white overlay, this is what you get.
Hmm… is it any wonder that Anna Sui needed that pretty pattern? 😛
I must say that this blush really took a lot of work. I first tried swirling a brush over the colours. But the strange thing is that the blush is quite hard to the touch. I could barely get the colours to show up when using my fingers to swatch this which is unusual. However, if you use a brush, the brush picks up colour quite easily. To paraphrase M&Ms it picks up on your brush, not on your hands 😛
Swirling a brush over the surface didn't do it for me. The yellow is quite strong and it tends to dominate the pink. So I ended up a few times with yellowish cheeks. However, the Anna Sui makeup artist then taught me a different technique, that you can use with all 3 of the blush duos in this range.
You first apply the pink on the apples of your cheeks, and then brush a thin layer of the yellow over the pink. What then happens is that the pink turns peach. But you have to be very careful because its easy to overdo it.
You can see what I mean from the arm swatches above. Those swatches were a right pain in the butt to get – the colour just wouldn't come off onto my fingers! The very cool pink turns into quite a nice peach… provided you do it correctly. Its certainly interesting although I can't say this colour combination will be for everyone. I can only see me using this on days when I have the time in the mornings to ensure that I can get it right… or risk people wondering if I've come down with jaundice 😛
Pros: Light sheer colours are easy to build up if necessary, 2 colours in one palette – pink and peach
Cons: Pinkish Yellow is very challenging
The Anna Sui Spring 2011 Blush Duos actually come in 3 shades – 01 Blooming Pink, 02 Healthy Orange and 03 Pinkish Yellow. Of the 3, I think Blooming Pink would be the easiest to handle. You can apply it the same way as shown here i.e. layer the lighter shade over the darker shade to create a new colour.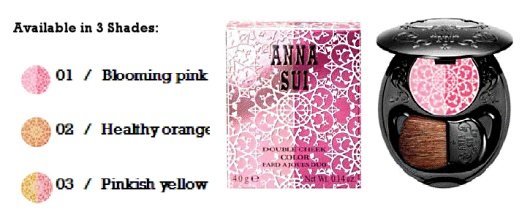 Its just that it being two shades of pink, the margin of error is practically nil. Healthy Orange (orange/brown) too sounds perfect for those with a warm skintone for a healthy blush/bronzer look. The most challenging therefore is Pinkish Yellow. But as you can see here, its not impossible to manage! 🙂
Have you seen these at the Anna Sui counter? They are limited edition so colours like #01 would probably sell out quickly. Are you adventurous enough to give a colour like Pinkish Yellow a go? 🙂
Paris B
The Anna Sui Blush Duos for Spring 2011 are limited edition and retail at RM91 each at all Anna Sui counters.