I am such a sucker for cleansing oils. I have a bazillion-million lying around from various brands and I always am tempted by another. Its a sickness I tell you. I hope I'm not alone in this one 😛
Anyway, one day, while I was at an Aesop counter browsing, I was offered a mini-facial to try some of their products. I'm not too familiar with Aesop, so I said yes. This was at the Aesop counter at 1 Utama and if they aren't too busy, you can try asking to see if they'd do the same for you 🙂 So anyway, one of the items they used on me was the Aesop Parsley Seed Facial Cleansing Oil.
Cleansing Oil! Ding! Ding! I had to have it 😛 So the next time I saw Aesop having a promo (this was last year at Bangsar Village 2) I picked up a bottle. Its a RM185 bottle of cleansing oil and my wallet cried out in protest at this. Its likely to be the most expensive cleansing oil I've purchased to date!
So I took it home, skipping with joy (but carefully because its a heavy glass bottle) and got into the shower to use the cleansing oil as I always do – on dry face with dry hands, as a makeup remover.
Oh boy. Big mistake.
The oil felt thick on my skin and it took ages to emulsify and to wash off thereafter. To add insult to injury, it did not remove my makeup and felt icky. I was bummed 🙁
And then, I took the trouble to read the instructions.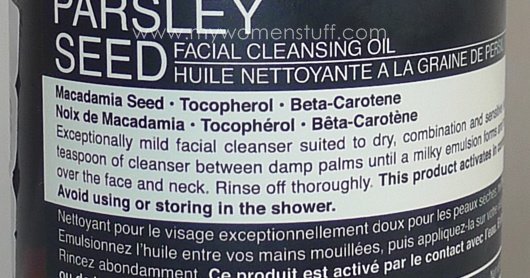 Oh.
What the instructions say is to pour out some of the cleansing oil into the palm of your hand, add water (!), emulsify it (!!) and only then use it to cleanse your skin. Okaayyy… that's a new one to me.
So the next time, I cleaned my face first, and then used this cleansing oil as instructed, feeling sceptical and weird all the way. The oil is a dark yellow and I use about the size of a coin. Then I add a little water, and it turns into a milky liquid, which I then apply on my skin. I then continue to emulsify by adding some water to my skin before washing off thoroughly.
What d'ya know! It cleaned my skin a treat! After cleansing, my skin felt soft and not dry at all and I don't need to double cleanse thereafter. It felt very comfortable, and clean. I actually really really liked it.
I now use this cleansing oil in the morning because a glass bottle is hazardous in a shower and because I love how it cleanses so gently in the morning. If it came with a pump, I'd use it in the evening too! Plus, I like the scent. Its not a fresh scent nor a very oily scent. Its got a rosy lavender scent that I find comforting in the morning.
Pros: Cleans skin well, Skin feels soft and smooth thereafter, Not drying
Cons: Heavy glass bottle is hazardous in the shower, Expensive, Should come with a pump instead of flip top.
Here is the ingredient list:
You know how every Aesop Fable has a moral to the story? Well, I learnt 2 things from this episode:-
Names aren't everything. Just because it says its a cleansing oil, doesn't mean its a cleansing oil like I'm used to, that we use to remove makeup before cleansing. This is a cleansing oil in the sense that it is an oil that cleanses.
Read the instructions. And don't be a smart alec like I was 😛
Have you come across or tried this one? It certainly needed a change of mindset before I could use this one effectively. Or have you used a product without reading instructions and later found it more effective if you'd read them? 🙂
Paris B
The Aesop Parsley Seed Facial Cleansing Oil retails at RM185/200ml at Aesop counters – Bangsar Village 2, Isetan KLCC, Parkson Pavilion KL, Metrojaya Midvalley, 1 Utama and Gurney Plaza Penang.