If you like shiny shimmery but pigmented lipglosses, I have a wonderful find for you! While playing around recently, I realised that we have a save and splurge in two brands of shiny shimmery but pigmented lipglosses! I showed you a save and splurge lipgloss edition before. Here's another 🙂
See if you can guess which are the two lipglosses in the picture above before hopping along to read the rest 🙂 Hint: They both come in long square tubes.
No peeking at the answers!
Have you got your answers ready? Alright then. Hopalong now! 😉

Now, did you guess the ones I was going to show you? 😀
Save: Revlon ColorBurst Lipgloss – RM36
Did you guess one of them to the the Revlon ColorBurst lipgloss? You can read my review on Strawberry and Rose Pearl. They are both quite different in texture as you can see from the reviews. But in general you get a lipgloss with good colour, shine and shimmer. The minus point is that the scent can bug you. Pretty much a bargain at RM36 a tube.
Splurge: Chanel Levres Scintillantes Glossimer – RM84
Did you guess the splurge version to be from Chanel? 😀 In fact, while I was using the Revlon one, I could not help thinking it was very familiar. When I dug around in my lip stash, there, staring at me was the Chanel Levres Scintillantes lipgloss in Jupiter, and the pieces of the jigsaw fell into place. Chanel Levres Scintillantes (Extreme Shine) lipglosses too impart high shine and shimmer with good pigment. In fact, the Chanel glossimers are a lot shinier than Revlon's. The plus side is that there is no scent and you get the thrill of owning something from Chanel 😉 A splurge at RM84 each (or perhaps prices have gone up? I'm not sure)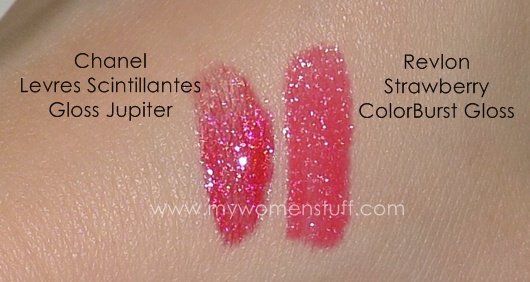 If all you want is a lipgloss with nice pigment and high shine, start by taking a look at Revlon ColorBurst glosses. See if you can find a colour you like, and if you can handle the scent. If the scent really bugs you, you can opt to go high end with Chanel, which has a much much wider colour selection. But really, on the skin I don't think you can tell which is which… can you? 🙂
Paris B
Save and Splurge is where I show you similar items by different brands that I have tried. They may not work quite the same way, but it'll offer you options for your wallet for a similar effect/product. Do note however, that it is based on products I have tried, so whilst there are many save and splurge options out there, these are my views and choices. You can find more under the category of Challenges.