For the … ahem! Animal in you 🙂
If you aren't into animal prints for fashion (and I'm not) you can still hop onto the animal print trend with the new and exclusive Dior Mitzah Animal Print palette. This palette is inspired by Dior muse Mitzah Bricard whose signature look is animal prints and red lipstick. grrr… 😉
This palette looks less amazing than the Tailleur Bar palette from last year but ultimately more wearable. I'm told that the colours and pattern on this palette goes all the way through. Pretty impressive if you ask me. Unlike the Tailleur Bar palette however, this one IS available here in Malaysia – hurray! 🙂
The Dior Mitzah animal print palette is available exclusively at Isetan department stores and retails at RM290. Ouches! Yes I know. Its very very limited in number so if you like it, you're going to have to make a reservation or hurry down to a Dior counter at an Isetan store near you.
Its an eye palette, but I have no doubt that it can just as easily be worn on the face for those who are tanner, as a bronzer. The colours are a little warm for me though, so the odds are I am not quite eyeing this.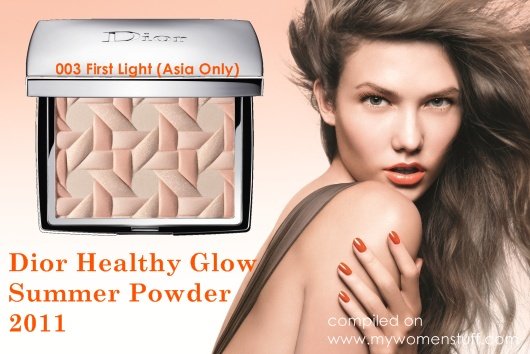 I am however, eyeing the Healthy Glow Summer Powder which is due to be released in May 2011! 😀 I love the look of the basket weave design 😀
There are 3 shades available here in Asia – 001 Aurora for fair skins, 002 Sunset for tanned golden skin tones and 003 First Light which is an Asia Exclusive. From the stock photos, it looks to be a pale highlighter/bronzer/blush which suits Asians who prefer not to look tanned or bronzed, but just with a touch of highlight on the skin. The image above is the Asia Exclusive 003 First Light face palette. [UPDATE: Here's my review on First Light]
If you look at the look shown above, I don't quite see what's so electric about the new offering, except for the neon orange nails. There will also be 2 eyeshadow palettes, Healthy Glow Complexion Enhancer, nail polish and Lip Crystal glosses. Again nothing ultimately shocking but wearable for the most part. Will be watching for the reviews of the new Dior collection around the interweb 🙂
Are you taken by the Mitzah palette? Or perhaps like me, you prefer the basket weave look of the summer palette? 🙂
Paris B
The Dior Mitzah Palette is exclusive to Isetan department stores and retails at RM290. Prices for the Electric Tropics collection will be advised in due course.