Here's a photo of the new Dior Cannage eyeshadow palette for Spring 2011. This is #001 Dawn Grey.
It came a little smashed. Not drunk, just shattered 😉 Lucky for me, it was just the matte black that broke. Unlucky for me, it got all over the palette. I cleaned it up the best I could and took this picture with my Mom standing over my shoulder watching me "work" and she was so upset that it was broken so I had to keep telling her that it was alright. There's still a lot of colour left. Aww… 🙂 I know we can try pressing it back, but I've got no patience and I don't like the texture thereafter so I never re-press shattered colours. If they shatter, they're gone.
Still, it doesn't stop this being a very pretty palette. I know greys aren't a Spring thing, but I love greys (and I look good in them haah! 😉 ) so this palette is right up my alley! Yay, say the swatches below! 😀
The Dior Cannage palette is actually smaller than the regular 5 colour palettes. It comes in a square quilted case that resembles the signature canework on the Dior Cannage leather bags. The same print is embossed on the shadows.
PLUS the piece de resistance – the absolutely adorable dangly Dior charm.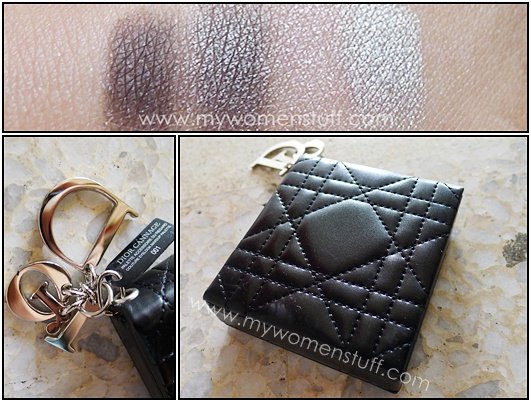 Sadly I'm a sucker for anything Dior and this matches the Dior bags perfectly 😛
So yes its a pretty palette, but what about the eyeshadow texture then? Honestly, I find it a mixed bag. The matte black that shattered is a lovely soft texture (probably why it broke) while the other 3 shimmer shades tend towards a grittier texture. The dark shimmer grey and light white are quite fine, but the pink tends to be a bit gritty so it does not apply not stick on the skin as well as the other colours. Personally I feel its not quite up to par compared to the regular Dior quints.
Here's a look I quickly put together.
How I wear this palette is pretty much how I wear any eye palette – matte black closest to the lash line, dark grey smudged on outer corner of the lid, light pink on middle part of the lid and the light grey over to blend and highlight. Lipstick is Guerlain Fuchsia Delice and this is the same look from that review 🙂
I like greys on the eyes so I love the colors in this palette, nevermind that I probably have similar shades elsewhere. They aren't all in one place 😉
Pros: Lovely packaging, Nice colours more suited for cool toned skin,
Cons: Matte black shatters easily, Shimmer colours have a grittier texture than normal, Limited Edition
So… its Valentine's Day today! Happy Valentine's Day and don't all go and crowd the eating places tonight y'hear? Food is sub-par at inflated prices – wait till tomorrow … says the cynic 😉 If I were celebrating Valentine's Day, I'd use this palette for the eyes and a lovely red lip, possibly in the matching Rouge Dior Red Muse lipstick. Who cares if it kisses off eh? 😉
Might this Dior Cannage palette have colours you like? Do you re-press shattered makeup or are you like me and just sigh and toss out the shattered bits? 🙂
Paris B
Dior Cannage eyeshadow palette retails at RM198 and comes in 2 shades at all Dior counters. The shade pictured is #001 Dawn Grey. Limited Edition for Spring 2011