I lurve finding something I've been looking for, for ages. And I lurve it even better when I find it at a bargainlicious price. Oh and even better, I lurve it that its widely available so all of YOU can run out there and get it too! 😀
When Tine told us about her foldable flats, I went on a hunt for them. Oh I know they are available online under various brands and all that, but I am a very tactile shopper and I prefer being able to see and touch the things I buy. The other drawback was that they are pretty pricey online if purchased from overseas. I also found some online stores locally selling these sorts of foldable flats but they were about RM50 a pair and I wasn't up to paying that sort of money for "emergency flats".
Yes, that's what these ballet flats essentially are . They are foldable, so you can tuck them in your handbag to pull out when your feet just can't stand being in heels anymore. Don't tell me you've never worn a gorgeous pair of stilettos and after a few hours, wish you could change to something cute but importantly, flat – just to give your aching feet (and back) a break. I always do 😛 And yes, darlings, I found such cute, foldable ballet flats available locally and easily and importantly, at an affordable price! 😀
One evening, while doing some browsing at Guardian pharmacy, I spotted something under the Scholl brand – Party Feet Foldable Ballet Flats!
They looked about right. The back end of the shoe folds over and tucks into the front end of the shoe. It is a soft shiny pvc with rubberized grip around it so it holds on properly to your feet, and it comes with a cute little ribbon on the front. The base of the shoe is rubberized so you don't slip and its fairly comfortable.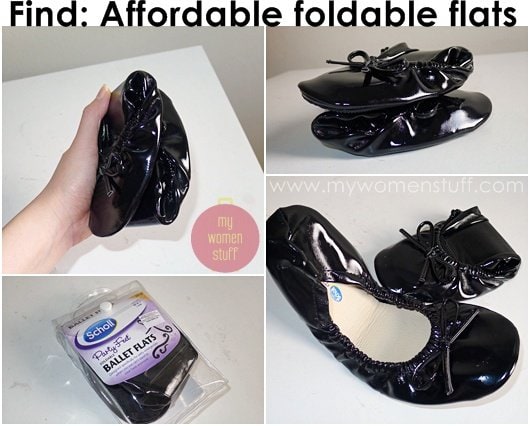 As you can see, both shoes folded flat fit nicely into my hand and they fit into a medium sized handbag quite snugly. There is no case provided but if you keep the plastic case it comes in, it'll do. Else, you can find yourself a cute small drawstring bag and fit it in there.
I've worn it twice since I got it last week. I have a pair of work shoes that looks good but can be hell on my feet if I try tramping around a mall in them. Some days, I forget to change my shoes after work (or perhaps I'm not driving that day) so these came in handy. I wouldn't wear them for everyday.
They aren't made to be tramping around on a day to day basis, but is strictly for emergency use as it offers little to no support. If you plan to carry it in a party bag, it has to be quite a roomy bag because these will not fit into a clutch. But you will appreciate having these on hand for when your feet says "Enough! I'm not going to stand being in these heels any longer!" I'm going to consider carrying it when I travel too. Sure, its no replacement for a proper pair of shoes, but it'll offer some comfort those times when I try to be vain and wear something a little dressier on my holidays 😀
Oh and the price? RM27.90 🙂 Isn't that pretty bargainlicious? Its by Scholl after all, and you should find it in a major Guardian pharmacy (I got mine at MidValley Megamall) where the Scholl foot products are (e.g. insoles, feet support, pumice stones etc). I saw just black. If you like the fashionable colours, you'd have to look elsewhere but I'm glad it comes in black – its the most versatile colour of all and hence, probably the most fashionable 😉
Mine is size AUS/US W 6-7 which fits my size UK4 feet (Clarks shoes measurement) quite snugly. I saw another size in 8-9 but I'm not sure just how many sizes there are available as stocks were pretty limited.
Do you own similar sort of emergency shoes? Might it be something you have been looking for locally too? 🙂 It being from Scholl, I'm sure its easily available overseas too so you could look at your local Scholl counter.
Paris B
The Scholl Party Feet Foldable Ballet Flats were purchased at RM27.90 from Guardian pharmacy MidValley Megamall.