Hello Ladies!
I've been snooping around and picked up news of a couple of new things I thought I'd share with you. Most are already available so if you are interested you can run right out and get them 🙂
Garnier Light to lighten dark spots in 2 weeks
The Garnier Light cream has been around for a while already. The bright yellow tub of cream contains lemon extract and snowpine whitesource (which is supposed to be 10 times more effective than Vitamin C for skin brightening). I personally have not used it but I know of some people who do and who do report that its good for them. It helps of course that its very affordable 🙂 So the cream itself isn't new, but they have improved upon it so it now lightens skin within 2 weeks instead of 4. It comes with SPF17 PA++ for sunscreen protection (but do use additional sunscreen if you really want to protect your skin). If you have tried this, please share your thoughts on it 🙂
Garnier Skin Naturals Light Whiten & Even Moisturising Cream with SPF17 PA++ retails at RM19.90/50ml at leading pharmacies and retailers
Sunplay spray on sunscreen
I spotted this in Guardian Pharmacy about 2 weeks ago. Actually my friend did and pointed out the SPF80 reading. I used to use Sunplay sunscreens quite a few years ago. They were small, slim and practical to tote around, plus they weren't sticky. I just did not quite like the "papery" feel on my skin after application. I'm curious to see if this one will be the same since it promises to feel moisturizing.
Sunplay UV Body Mist Sunblock SPF80 PA++ retails at RM45.90/150ml at all leading pharmacies
Kanebo Milano powder
Kanebo puts out a limited edition Milano collection powder every year. Its a very exclusive collection and I've seen the powder myself at a Kanebo counter. But I haven't tried it nor can I bring myself to because its pretty pricey. Also I don't think I really want to defile it and ruin that pretty embossing! Infused with royal jelly extract and daisy extract for a non-cakey velvety finish.
Kanebo Milano Face Up Powder SPF14 PA++ 24g retails at RM248
LipIce Shimmer Tinted Lipbalm!
I'm not into lipbalms much as many of you know by now. But many years ago, before I discovered things like Vitamin E Oil and Lucas Papaw Ointment, I was using Lipice. In its original flavour, it would leave a lovely tingly cool feel on my lips which was nice 🙂 Now there's a new color shimmer lip moisturizer which is pretty much self-explanatory. Essential tinted lip balm with shimmer. Now isn't that pretty? Perfect for those no makeup days 🙂 It does contain beeswax though so if you are sensitive you know to avoid it.
LipIce Sheer Color Shimmer Lip Moisturizer retails at RM14.90 each at all leading pharmacies
So if you are keen on any of the products above, you can easily find them in stores now.
Oh and I wanted to share too that if you want to try Vichy products, or are already a user, there are some leftover value sets from Christmas that are great value for money.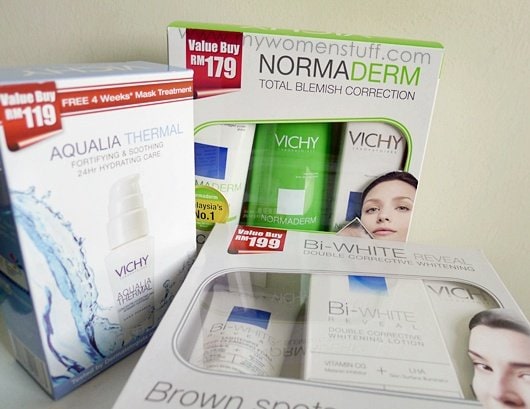 My personal recommendations are the Aqualia (moisture) and Normaderm (acne-prone) range. And I saw that in Guardian, they were selling some mini value sets too – 1 full size product with a bunch of samples. A friend bought the new tinted sunscreen. I'm going to try to get them to share their thoughts on it later, or failing which I'd swipe it off them and try it for myself! 😉
So what are you up to then this weekend? I'm doing spring cleaning and I also have a massage lined up to ease my aching bones hehe… Chinese New Year is less than 3 weeks away! I have to get my house clean and shipshape to welcome in the Year of the Rabbit! 😀
Enjoy the weekend 😀
Paris B