Saturday, Ladies! We made it through the week! 😀
I'm having a pre-Chinese New Year lunch with a bunch of friends today. Tossing "yee sang" for lots of good luck in the coming year yo! 😀 Are you out doing any last minute shopping? I was snapping up cookies and oranges at the last minute yesterday. Tiring business, preparing for Chinese New Year 😛
Anyway on with the programme!
Dermalogica FITE programme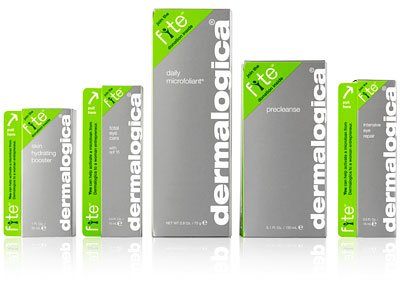 Dermalogica fights the good FITE (Financial Independance Through Entrepreneurship). Purchase any one of the 5 Dermalogica hero products in the special packaging shown and Dermalogica will donate US$1 to help provide microfinancing to up to 25,000 women worldwide. It is a step to help women be more independant and give them a leg up in their businesses. I think its a noble cause.
Its not an empty pledge because YOU the customer, will be the one who determines which field you want your fund to go to. There is a special bar code you key into the website at www.joinfite.org to redeem your contribution. Available at all Dermalogica distributors and Aster Spring salons nationwide, the 5 hero products are the Daily Microfoliant, PreCleanse, Skin Hydrating Booster, Total Eye Care and Intensive Eye Repair. If you are a Dermalogica user, there is no better time to give back and help another woman stand on her feet financially 🙂
Vichy Essentielles Rose Skincare range
I like a few things from Vichy but I know some people think its a little pricey for something from the pharmacy. So Vichy has come up with an introductory range of essential skincare targeted at the budget conscious consumer 🙂 Infused with Rose polyphenols and paraben free it is a basic line of skincare for all skin types. Your first Vichy as it were. Prices are between RM20-40 which is terribly affordable!
Strivectin SD revamps the eye cream and stretch mark cream and introduces a facial scrub
Strivectin SD made a name for themselves in skincare when women found that the stretch mark cream did wonders for ironing out wrinkles and fine lines on their face and around their eyes. I tried the old formula a while ago. It worked for me. Strivectin SD has now changed their packaging and revamped the formula so its now more effective. They have also printed the expected results from first use and a week and thereafter. I think that's great. Its testimony to just how effective their product is 🙂
There is also a new addition to the line – a facial scrub. Now that promises to be interesting 🙂
Diorshow 360° Rotating Mascara
We've had the age of the vibrating mascara. Now check out the rotating mascara from Dior, new in Spring 2011. The mascara wand rotates to help coat your lashes with the Diorshow mascara and add length and volume. Most intriguing!
Retail price: RM128
Victoria Jackson – New makeup brand
A new makeup brand that will be making its rounds here in Malaysia is Victoria Jackson. Most of the makeup comes in kits like the one you see – the Survival Kit (RM150 for members and RM186 non members) with 10 eyeshadows, 5 lipsticks, 2 blushes, 2 liners, mascara and applicators, in one compact case. It will be mostly sold via roadshows in shopping malls and offices and selected beauty stores.
Have you spotted any of the above yet? Barring the Victoria Jackson cosmetics which will be seen later in February 2011, most are already available in store so you'd have likely spotted it or even tried them. I tried the Dermalogica MultiActive mist toner once thanks to a sample from a friend and I really liked it! Unfortunately its not part of the FITE program but the Precleanse is and I hear that's good too!
Enjoy your weekend everyone!
Paris B