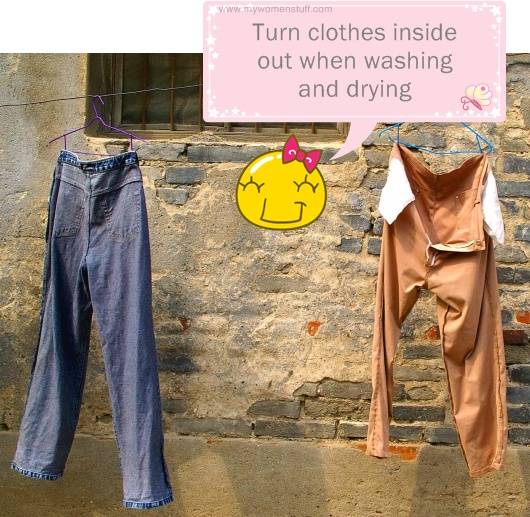 I was doing my laundry yesterday and was turning my clothes inside out before I put them into the washing machine, as I do, when this thought struck me. Do you do the same thing? Turn your clothes inside out when doing laundry?
I'd always helped my late grandma and my Mom with the laundry (it was one of my chores) and it had been drummed into me that I had to always turn my clothes inside out before putting them in the wash, and when hanging them out to air dry. The reason I was given, when my 8 year old inquisitive self asked, was so that your clothes stay looking new and better for longer.
It sort of makes sense.
When you turn your laundry inside out, when the clothes rub against each other, it is the inside that will come in contact so whatever prints, ribbons, buttons etc on the front will not snag nor come loose, thus preserving the life of your clothes.
For denim and dark coloured clothes in particular, it will fade less especially if you dry it in the sun. But then I was also taught to not dry my clothes directly under the sun so they do not fade so quickly 🙂
I have seen evidence of how well my Mom's clothes remain despite the many launderings. She does tend to go for quality so perhaps that plays a part too but she also takes care of how she does her laundry (handwash means handwash not put in the machine on delicate cycle, as I do 😛 ) and her clothes go a very long way. I'd like mine to be that way too 🙂
So, do you find yourself doing the same thing? Do you turn your clothes inside out when doing the laundry? 🙂
Paris B