I received a comment from Jo 2 days ago, who asked how I would pack a small gift like a lipstick or lipgloss for friends. I thought it so interesting that it deserved its own post 🙂
Here are some ways I pack small items as gift. I'm not very good with gift wrapping so I always take the easiest and simplest route 🙂 Whilst this is coming in just nicely for the Christmas gift-giving season, you can use the ideas for any gift you want to give… like to me for instance… *ahem* shameless yes I know 😉
For purposes of demonstration I'm using a nail polish bottle so you have an idea of size. This isn't going to any friend 🙂
Place in a small Gift bag
If you have a pretty organza bag on hand you're halfway there! Sometimes you might receive gifts in such bags too. Save them so you don't have to buy them! Wrap your gift in some layers of tissue paper (or not) and place in the bag. Tada!
Tip: You can get these organza bags quite inexpensively in bulk if you go to wholesale shops or craft shops. Try Petaling St. Chinatown (Malaysia) or Bangkok (Thailand) where I usually purchase mine.
The sweet/cracker gift wrap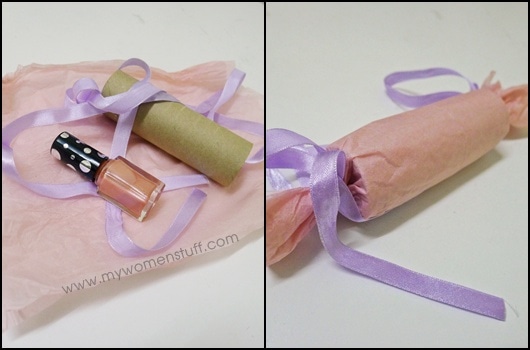 Use a cardboard tube as a base. Place your item inside the roll and wrap the outside with pretty paper or colourful pages from a magazine (if you'd like to stick with the recycling theme). Twist the ends shut and hold shut with tape. Tie a pretty ribbon at the ends. Tada!
Tip: You can use the inner tube from kitchen towels. They are usually quite sturdy and you can cut them to size. Or look around for other tubes. The cardboard case from a light tube can work too.
Turn wrapping paper into a pouch
If you are crafty, you can easily turn a piece of wrapping paper into a pouch. Then, use that pouch to hold your gift. This idea is picked up from a friend from whom I received a gift, wrapped this way. Its pretty and you can actually reuse it for someone else!
Tip: This is why you should keep scraps of wrapping paper! You can reuse old wrapping paper to make pretty pouches for small gifts
Use a cloth pouch and give a gift within a gift
If you are crafty, sew a cloth bag or pouch to hold your little gift. When your recipient has oohed and ahhed over the contents, they can reuse the pouch to hold keys or their mobile phone or tissue paper or any knick knacks they fancy. You give a gift that lasts the whole year and more!
Tip: If you aren't crafty (and I'm not!) look on etsy.com for some inexpensive pouches that are very well made and come in pretty fabric.
Reuse a pretty paper bag
My camera ran out of battery at this point LOL! 😀 But If you don't have an organza bag on hand or tissue paper, don't fret! Here's where recycling comes in. Look for a small, pretty paper bag. You sometimes get them when you purchase small items from stores. If you don't like the brand name on it you can decorate it with some pictures you can cut our from mags or even the newspaper. Shred bits of colourful paper to pad up the bag and place gift in it. Tape the bag shut and tie a pretty ribbon on the handle. Tada!
Use a piece of cloth tied with ribbon
I did this one year. I wrapped up the small gifts in coloured tissue paper and then took a piece of colourful cloth (or a scarf if you'd like to give a gift within a gift), wrapped up the bundle and tied it shut with a bit of ribbon. It was fast and very easy.
These are some ways I use to giftpack my gifts if they are small items like cosmetics. I usually use all these methods to hold small gifts except the sweet/cracker gift wrap unless I'm feeling crafty. For larger gifts, I usually just put them in a pretty paper bag and am good to go.
If you have any ideas on how you might wrap a small gift, do share in comments 🙂 I'm always up to learning something new!
Paris B