Remember when I last coloured my hair at home and how I mentioned that the smell of ammonia really put me off and how I wished there was an ammonia-free home hair colour? Well, I knew that there was an ammonia free salon colour, but I just came across this ammonia-free home color kit by Revlon. Let's hear a yay for no stinkiness!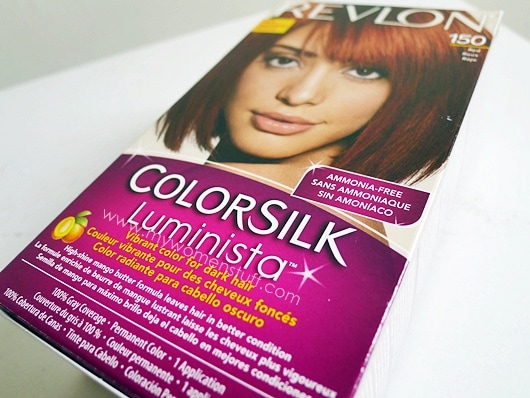 The Revlon Colorsilk Luminista home colour is ammonia-free and claims to cover 100% grey hair – anyone with grey hair have a testimonial? And it also claims to deliver more vibrant colour for dark hair without brassiness while being gentle enough to leave hair in better condition than before.
I haven't given it a go. Not sure if I want to go red-head yet, although its a colour I've had before. Might be nice to give it another whirl in time for the New Year you reckon? 😉
The current colour of Liese Mocha Orange has dulled somewhat in real life, although it still looks pretty vibrant under the sun. Wonder if I'd kill my hair if I changed my hair colour so close to the last time I coloured 😛
Have you tried this one yet? I'd love to know if you have gray hair and if you know whether this covers the gray 100%
p.s I'm not sure if there are other stinky smells coming from this one since I haven't tried it. But since the ammonia smell is the strongest usually (and the smelliest) I think this might not stink as much. We can hope!
Paris B
Revlon Colorsilk Luminista hair colour kit comes in 6 shades and retails for RM25.90 at most leading pharmacies