So the rumours fly thick and fast and are in fact confirmed that Burberry Makeup is appearing on our Malaysian shores in January 2011. That's just about a week away! Personally I know nothing about its launch or where it'll be available or its price point.
But I had the providence to meet the very lovely and friendly Emma, Editor of Jelita magazine (a local Malay women's magazine) at a lunch, and we got to talking beauty. Naturally 😛 And we were talking about this and that and then the subject of Burberry Makeup came up. And she told me of her favourite blush from the brand and… Hallelujah! Pulled it out of her bag!
*cue Angel song and twinkly stars*
She even allowed me to photograph it so I could share the pictures (and thrill) with you 😀

Her colour is Russet 01 which looks like a neutral browned-peach blush. It has shimmer and twinkled under the lights, which surprised me. I wasn't expecting that.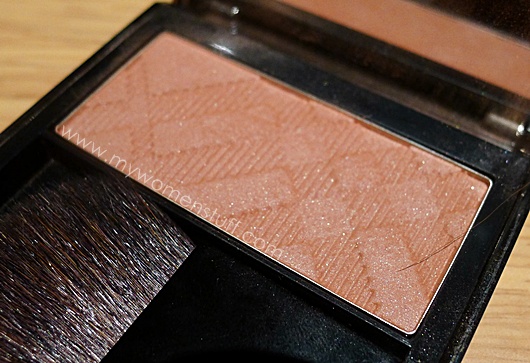 I did not swatch it of course. You don't go round swiping other people's makeup… much as your fingers itch to 😛 I did think however that Russet would look much better on someone with medium skintone. On my skin, I think it'd turn out looking a bit muddy. I would be eyeing the pink one (Peony) instead.
She did tell me that the price point will be quite high, seeing as its Burberry and all and will live up to its luxury brand image. We should be expecting Chanel and Dior prices but she could not recall off hand the price of the blush. (Update: It will retail at RM140. That's the same price as a Chanel Joues Contraste blush. I wonder if the quality will be as good as Chanel)
So there you have it! A quick preview of what we can expect from Burberry Makeup once its available here in Malaysia 🙂
Are we excited to see a new brand in the luxury makeup scene? 🙂
Paris B
Burberry Light Glow Natural Blush will retail at RM140 each and comes in 6 shades. Burberry Makeup will be available at Isetan KLCC from Jan 27, 2011