Hiya Ladies
Its Fri-i-day! 😀
I've recently received a few emails about taking photos for your blog and I've also noticed that there are many bloggers amongst all you lovely readers. I love how we're all a little community of beauty loving bloggers – its great isn't it? 😀
From my personal viewpoint, photos are important for a blogger and a blog – any blog! However, that is not the be-all-end-all for a beauty blog. You can easily find stock photos of products online and there is many a successful blogger who gets by with that and strength of writing. Its preferable to seeing blurry photos and if anything, it saves time rather than having to take your own photos, edit, crop etc. I started out using stock photos too and I'd continue to, if I didn't get interested in a bit of photography 🙂
Whatever you do, just remember NOT to steal photographs from other bloggers or websites. It is rude and unethical and undermines your credibility. Also, remember to credit your source where you can with a link. Using photographs belonging to others without credit is as good as walking into their bedroom and swiping their favourite lipstick.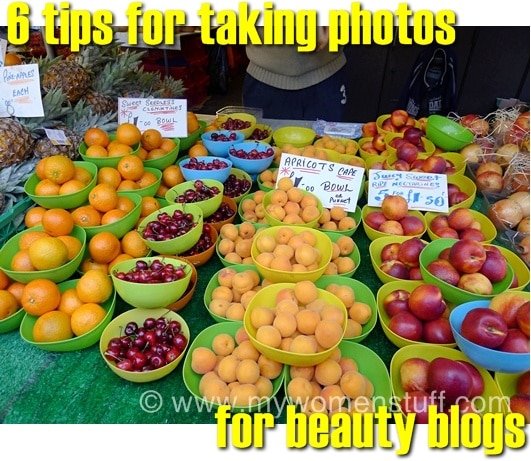 However, lets say you're picky like I am, and want to show photos of the actual product and swatches on your skin. I'm a blog reader too and I find swatches very useful particularly for colour cosmetics. For skincare, actual product photos don't make much of a difference to me. So I have a couple of simple basic tips to help you get that lovely crisp photo of that lovely product or swatch that you want to show. Do note that this is from my personal experience and I'm NOT a photographer nor a pro nor do I claim to be an authority 😛
1. Know your Camera
Contrary to popular belief, you do not need a DSLR camera to get good photos. Yes, a DSLR gives you the ability to take better photos because of the bigger sensor and lenses and yes, you look all swanky and professional lugging one around. But for blogging purposes, all you really need is a digital compact point and shoot and these are pretty inexpensive these days. Your intention is to capture photos on the fly anyway.
Mobile phone cameras don't do quite as well in my view for proper product shots, unless you plan to take quick sneaky photos. The colour always tends to be off because the sensor is tiny even by comparison to compact cameras and the macro function isn't up to par. Let me show you a collage of an item taken using 3 different cameras.
This collage was taken under natural lighting conditions. Indoors, the mobile phone quality deteriorates very quickly. So if you want to maintain a blog, get a compact camera – as I have noted, you can get pretty decent ones these days quite inexpensively – cheaper than your mobile phone probably. You don't need something from the top of the range so long as you know how to maximize your camera's potential. Before you go ahead and shoot your photos, spend some time to get to know your camera and its functions to get the best out of it.
2. The Macro function is your best friend
If you have been experimenting, you might be wondering how to get a good close up shot of the product you want to showcase, or a picture of your eye or face or lips. Its time to get familiar with the Macro feature on your camera.
Look for the flower symbol. That is usually the symbol to activate the Macro feature. Turn it on and get close to your subject matter. Now, doesn't it look much clearer and sharper now?
How close you can get to your subject matter depends on your camera. Some, like the Lumix LX-5 I presently use can practically sit on top of the product and still get a nice clear shot. The Canon G10/G11/G12 I previously used can get up to 1cm close. Anything less than 1cm and it gets blurry.
This is something I have noticed. Some people turn on the Macro feature but they get too close to the subject matter, so it still turns out blurry and they wonder why. Every camera has its limitations. So adjust your distance until the image turns out sharp on your LCD screen and then take your photo. Turn on the auto focus and let the camera do its thing. If you have a Intelligent Auto or iA feature like on the new cameras, I've found it very useful to just use that for a quick shot. It does all the thinking for you 🙂
3. Watch your Lighting
To get accurate colour for your photos, you need to watch your lighting. For beauty blogs, and for colour representation and swatches, I suggest the use of natural light whenever possible. Natural light isn't direct sunlight though. That can still blow out your photo and wash out colours and create harsh shadows. Natural light is daylight.
However, not all of us have the privilege of taking photos in the daylight and sometimes, I too face that problem. If you take photos under fluorescent lighting or tungsten lighting, adjust that on your camera accordingly to get a better colour representation so you do not end up with too much blue tones (fluorescent lighting) or yellow tones (tungsten lighting).
If you still can't get it to show the correct colour, try setting the white balance.
4. Set your white balance
Most compact cameras these days allow you to set the white balance. Look for this feature on your camera and activate it. Now, take a white piece of paper or face a white wall and follow instructions to set the colour in your camera.
What you have just done is to get your camera to adjust its colour to show white as white (and not yellow or blue). It does not always work, and you might still have to compensate in one way or another, but it gets it to be a more accurate colour than if you did not set white balance.
5. Try not to use the built in flash
I'm a food blogger too (sometimes) and this is something I learnt while blogging about food, that I carried over into my beauty blog. Using the flash washes out your photo and makes it look less appetizing.
Unless you have a swanky large swivel flash that you can use to bounce off walls or ceilings to create artificial light, most compact cameras come with a direct flash that flashes straight onto the subject matter. This can create harsh lines, washed out colour and a blow out which usually makes your photo less interesting.
So, if you can, try not to use the flash. If its a little dark, try facing the window and do not block the light source. What this means is for you to face the window when taking photos, not with your back towards the light.
Beware also of too much light or of backlighting (lighting directly behind object). However, I do use the flash sometimes too – sometimes its just too dark to get a good picture. When you do plan to use the flash for close up photos, turn on the macro feature, reduce your exposure where possible or reduce the flash output if possible and then take your photo. Or place a piece of tissue paper over the flash when you take the photo. This can help soften the effects of the flash.
6. Practice, Practice, Practice!
As with everything, practice! Carry your camera with you and learn its functions. Practice, not just with beauty products but with anything you can shoot.
Take many photos, not just one of the product, or of your eye makeup or of your face makeup and choose the best one. I take something like 20 shots before I get one I'm satisfied with. In time, you'll learn your best angle, or the best place to take your photos or just the best setting to use under the circumstances. Practice, as they say, makes perfect 🙂
As I said above, I do not profess to be a professional, but this is, I hope a quick and simple guide to taking photos not just for your beauty blog, but for your blog in general. A well shot photo will need minimal post processing which saves you even more time to get out there and enjoy your life 😀
I enjoy taking photos and I usually have a camera with me most of the time. I do not own a DSLR however. I decided not to go down that route after much deliberation, because its size and bulk would detract from having a camera on me all the time and taking photos spontaneously, which is what I enjoy most.
I again, do not profess to be a good photographer or even an amateur photographer, and I learnt most of these through trial and error and from reading other blogs. With time I've learnt what works and I hope these tips can help you take a better photograph for your blog too 🙂
If you do have queries on how to take shots, or tips to share, please share in the comments. If I can't help you, there are many other photography afficionados out there who can 🙂
Happy photographing and blogging! I hope these helped someone 🙂
Paris B