Here's a product I've been using for quite a few months. I didn't quite know what to make of it, hence my reluctance to rush into a review. But a recent experience left me wondering if my skin condition might not have been helped by this moisturizer, so I figured the time was now right 🙂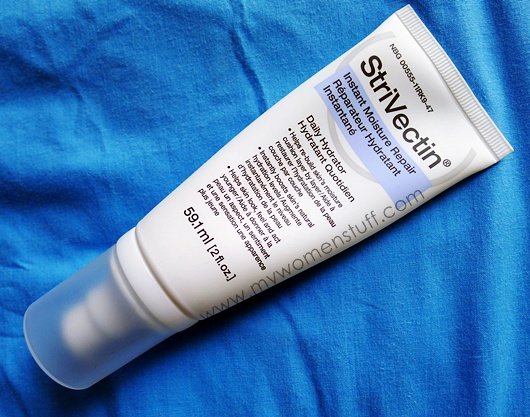 The Strivectin Instant Moisture Repair is a moisturizer. Actually, the press release said that it was not just a moisturizer, but with a title like "Daily Hydrator" and after using it, I'll say its a moisturizer, just one that perhaps is designed to work a little better. I found the texture a little odd – a bit thick yet not oily and it absorbs very quickly. It comes in a tube with a pump, which is easy to use. It pumps out very easily and I use about 1 to 1.5 pumps spread between my palms and then on my face and neck.
So why do I say that I was a bit on the fence about this one?
The reason is because I did not see anything dramatic happening to my skin. Granted, this is a Moisture Repair moisturizer and its job is to moisturize. I use it day and night over serums and as I said, it has been a few months.
The product claims to hydrate your skin layer by layer from inside out with oligopeptides that help your skin look and feel younger. I scoffed at the claims (as the sceptic in me does)
However, recently, I had a skin analysis done by a skincare brand. You know those analysis where they use those machines with a camera that magnifies your skin so it looks absolutely scary and awful? (I always believe its to scare you into buying something 😛 )
Now I was expecting to hear the same sort of results. An oily T-zone and dry cheek area. Previous analysis always showed me a cheek area with enlarged pores and looking a bit lined and dehydrated.
However, this time, my results said Oily T-zone but well hydrated cheeks. Hello? That was a surprise! Its been years since anyone told me that my skin was properly hydrated!
Thinking back, I have only been using 1 moisturizer consistently for the past few months so I reckon that this moisturizer must have helped my skin. I cannot say for certain, because I have also been using this serum and that serum and I do believe that the Estee Lauder Hydrationist serum also played a part; but in the main, this product has been a mainstay for moisturizer.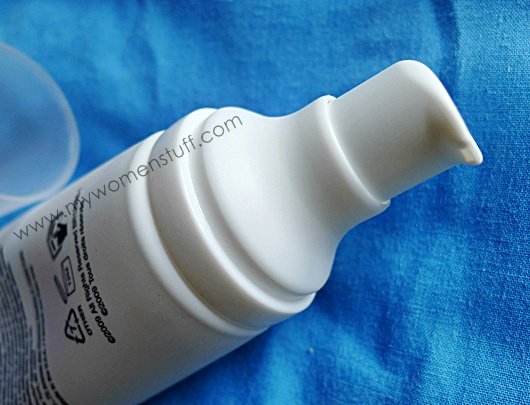 So I'm going to say that if you have very dry skin or just dry skin and want to give this Strivectin Instant Moisture Repair moisturizer shot, please do not expect a miracle. It says it works layer by layer on your skin. Perhaps it does. Perhaps this is why I am only now seeing results of what is well-hydrated skin, despite my current state of stress, constant travelling, dry cold winter air and constant exposure to air-conditioning.
Perhaps.
Pros: Instrumental in helping my skin remain hydrated, Do not have to use a lot, Tube is travel friendly

Cons: Pricey, Strange texture
I'm going to tell you its pricey because it is, but I only use 1-1.5 pumps and it has lasted me over 3 months, used day and night. So its not that wallet shattering after all 🙂 Oh and its marketed at older skin so if you are 35 and up with dry skin problems, its worth taking a look but if you are younger or have oily skin, hey! You save money! 😉
Paris B
Cleansing -> Toner/Lotion (if used) -> Serum -> Instant Moisture Boost
Strivectin Instant Moisture Repair retails at RM240/59.1ml at all Strivectin counters nationwide