I had a bad breakout a while ago, perhaps due to my trying too many things so I decided to give my skin a break and to go back to what I know works. One of the stalwarts I returned to was the Estee Lauder Hydrationist serum.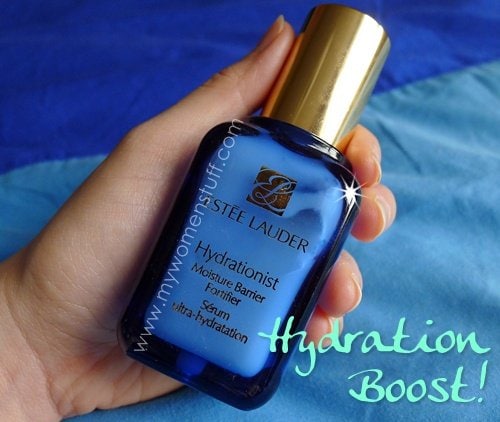 I'd been using this for a while now – since early this year actually. A long time ago, I used to use the Estee Lauder Hydra Complete range of skincare which was for moisturizing purposes. When I fell off the Estee Lauder bandwagon and got back on, they had reformulated it and the serum was now called Hydrationist, launched early this year. Question is if the new formula trumps the old?
Packaging is pretty simple. Actually I should say pretty AND simple. A pretty blue square bottle with pump dispenser works great because it takes up less space and it dispenses the serum well. I was a little upset that the bottle was not glass. It would have been so pretty if it was glass. I like my serums in glass bottles – it makes it seem more "serious" 😛
The serum is light and absorbs into my skin very quickly. I only use 1 pump, smooth it between my hands and apply to my face. Because its a serum, I use it after cleansing and toner and before moisturizer.
What I feel Hydrationist does, is to boost the moisture levels of my skin by working with my moisturizer du jour. I was using it twice a day initially, but after a while, I decided to stick to antiaging skincare in the evenings. So, Hydrationist was and is used only in the mornings.
I found that using it in the morning helps my skin retain its moisture so makeup sits better on my skin too, so I really like this one. My skin always seems to look a bit better when I'm using Hydrationist so its one I've been coming back to throughout the year.
Pros: Light texture, absorbs quickly, pump bottle dispenses just the right amount of serum in one pump

Cons: Pricey, Plastic bottle "cheapens" the look
No real complaints except that because this is a product by Estee Lauder and its a serum, do expect it to be a bit pricier than what you are used to paying otherwise.
That said, its been months since I started using this and you can see just how much I have left. A lot! I only use it once a day and I reckon it wouldn't be unreasonable to say it'll last me at least 6 months.
Tried this one yet? I think you might be able to snaffle some samples from the Estee Lauder counter to see if it suits your skin before you take the plunge 🙂
Paris B
Usage: Cleaner -> Toner -> Hydrationist -> Moisturizer
A 50ml bottle of Hydrationist Moisture Barrier Fortifier retails at RM210 at all Estee Lauder counters.