When I showed you the picture of the Shiseido Jungle eyeshadow trio, I asked you how it might work without turning the everyday woman into the She-Hulk.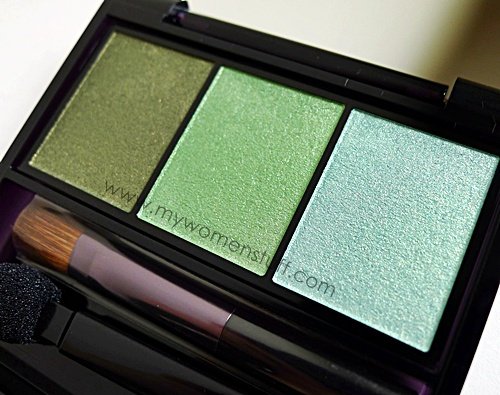 I love greens and the greens in this trio are no exception. They are beautiful! Probably one of the best collections of green eyeshadow I've seen in a long while. So I experimented and played around and to my surprise, there is enough depth and highlight in what seems to be 3 intense colours, to make it work! 😀
Here are the swatches on the back of my hand, swatched with my fingers. Like the Shiseido Opera trio, I suggest that you use eyeshadow brushes to get the most out of this palette.
Swatched with the sponge and fingers, it applies very sheer but with a brush, you get lovely colour intensity. The brush included in the palette works just as well. One of the better in-palette applicators I've come across yet.
As for the look I did, I call this the Poison Ivy look hehe…
It was very simple. Olive green in the outer edge of the lid and along the lash line, middle green in the middle of the lid and the light shade on the inner corner and blended along the outer edge of the eye towards the brow. To cheat a little, and to deepen the intensity of colour along the lash line, use a dark eyeliner and lots of perfect mascara 🙂
The colours look intense in the pan, and they are intense on skin too. They swatch like buttah! And there is sufficient shimmer to keep things interesting yet not too shimmery to turn you into a discoball.
Pros:
Lovely intense colour when used with a brush, Lovely trio of green eyeshadow, Creamy smooth texture and blends like a dream
Cons: None because I love this one
I know I managed to make the Opera trio work, with a bit of imagination, but this! This one, Jungle is what I'm all over! If you love green eyeshadow by golly! grab this one. You will not regret it one single bit 😀
Paris B
Shiseido Luminizing Trio eyeshadows come in 7 colour combinations and retail at RM105 at all Shiseido counters.