MAC's A Tartan Tale Holiday collection has certainly grabbed the attention of many, whether you like the tartan design or not. I told you before, that I picked up Glamora Castle, which is a limited edition eyeshadow in the collection. It was the only one that grabbed my attention because I'm into greys of all sorts.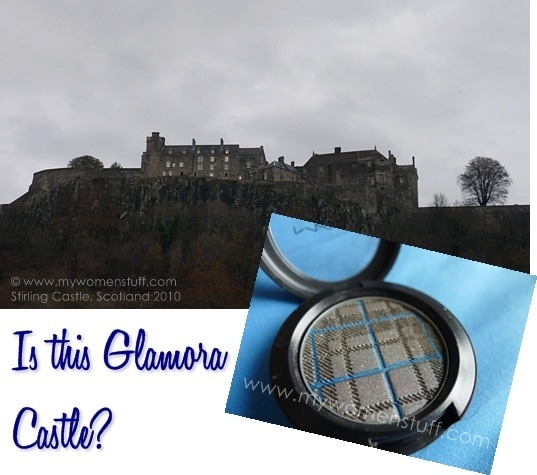 It is also because Scotland in winter is very grey so the colour is quite apt. And no, Glamora Castle is not a real place (at least I don't think so) The picture above is of Stirling Castle 🙂
So what's so special about a grey eyeshadow then? Well, a lot actually. Glamora Castle is a blue-grey with a little shimmer, and a very lovely colour! Apparently those teal lines don't go all the way through, as BritishBeautyBlogger discovered by carving up her Glamora Castle shadow. Ouch! Still, I didn't get the teal to show up much or at all, and the grey shadow is on its own shot through with a blue tone which I actually liked, so I was happy anyway.
This eyeshadow, like most MAC eyeshadows, apply better with a dense brush than with fingers. The swatch on the back of my hand is made using my fingers. I needed 2 swipes to get the colour to show up.
The colour on my eyes is applied using a dense brush. It is sooo much better looking than when I use my fingers!
I applied Glamora Castle all over my lid so you can see the blue toned grey properly. In fact, its a blue-green toned grey which is quite nice. There is also a touch of shimmer which isn't that prominent. I lined with a black shadow and highlighted with a shimmery white. But in the main, the colour I'm using is pretty much just Glamora Castle, unsullied by other colours. And to my surprise, it works just by itself!
There is sufficient depth and light in the eyeshadow to keep it interesting. And I'm starting to gush, so I'd better stop. Its a MAC eyeshadow. I never thought I'd see the day 😛
Oh and unlike other regular MAC eyeshadows this one did not fade on me at all throughout the day, used without an eye base. Very good! Get it while you can… or maybe its already sold out 😛 The pan is larger than the normal eyeshadow though so it is priced higher.
Pros: Large pan of eyeshadow, Interesting colour, Did not fade on my skin,
Cons: Limited Edition, Stripes do not go all the way down to the pan, Some might consider it expensive
I knew I had to rush this one out before it all flies off the shelves. I do wish MAC wouldn't do all these limited edition things so often. There are gems I'd love for everyone to try, but if I tell you about them, and you can't find them because they are limited edition and sold out you'd be most disappointed won't you?
Still, Glamora Castle is not without dupes because it does look quite generic grey. Its that touch of blue tone that keeps it interesting. I don't have any in my stash so I can't tell you which. If I come across one, I'll let you know… or if you know one, let us all know! 😀
Did you end up picking anything from A Tartan Tale in the end?
Paris B
MAC A Tartan Tale eyeshadows are limited edition and retail at RM85 each.