We all have beauty fears right? That one beauty related thing you want to try, but are afraid to. Nikki's is contact lenses although I think she looks amazing in them. I've done contact lenses before my lasik procedure so its not a fear of mine.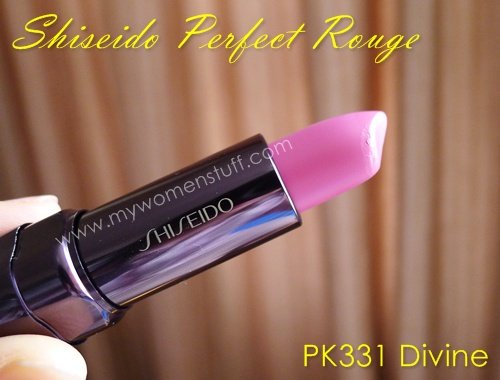 My fear, if you can call it that, is bubblegum pink lipstick.
Yup, I've never gone anywhere near bubblegum pink. In fact, I rarely wear pink lipstick because many ones I tried washed me out. I wore one by Giorgio Armani once in a frosty light pink. 5 people I met that day asked if I was not feeling well because I looked so pale. Bah!
So here's my attempt at conquering my "fear" if you might call it that – Shiseido Perfect Rouge in PK331 (Divine). Looks nice and bright in the tube right? Let's see how it fares on me.
Actually, it slicks on very bubblegum pink on my lips. Absolutely shocked me the first time I tried it.
After I got over the shock (and wiped it off) I tried again.
PK331 Divine is a cool toned baby pink that applies opaque with just one swipe. Unlike the Glowing Matte formula, this one is creamy and applies like a dream. It isn't glossy or shimmery but isn't matte either. Its a "perfect rouge" 😛 While I'm learning to deal with this bright pink, I'm really really digging the texture of Perfect Rouge.
If you want to try a lipstick that is pretty long lasting, does not dry out your lips, is true to colour with just 1 swipe on the lips and feels like nothing on, get your hands on Shiseido's Perfect Rouge. Don't worry if pink isn't your colour – there are 25 to choose from! I think I'm going to take a look at a couple of the other rosier or redder toned ones. Perhaps even Dragon.
I don't think bubblegum or baby pink lipstick is quite me, but I reckon I'll tone this one down with a red gloss over it or a brown gloss. On its own, I find it a little stark on me – or perhaps I'm not wearing it properly? 🙂
What d'ya reckon? Ideas on how this could work?
Now you tell me. What's your beauty fear and have you done anything to surmount it?
Paris B
Shiseido Perfect Rouge lipsticks retail at RM95 at all Shiseido counters and come in 25 shades to suit every skintone and preference.