Did you drive past Dataran Merdeka (Independence Square) at about 9.15pm yesterday? If you did, and you were paying attention, you might have witnessed something momentous – the historic Sultan Abdul Samad Building bathed in a pink glow.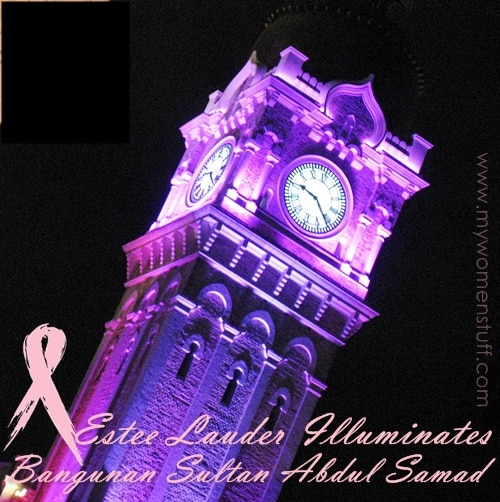 Interestingly, that shade of pink happens to be the favourite colour of our current Prime Minister's wife. But she was not the reason the iconic building was bathed in pink. It was part of the Estee Lauder Companies' Global Landmarks Initiative to draw attention to and spread awareness about breast cancer and how early detection saves lifes.
Yes ladies, we're in October, in case you have not noticed, and it is Breast Cancer Awareness Month again.
The Estee Lauder Group of Companies takes Pink for October very seriously, with lots of activities lined up to raise awareness about breast cancer and to educate women about how early detection can save lives.
This year, Malaysia's participation in the Global Landmarks Initiative sees 2 iconic buildings illuminated – the Sultan Abdul Samad Building and the KL Tower. And by some quirk of fate… or just good angles, here's a shot of both of them in the same frame!
The KL Tower will display pink lights for the whole month of October, while the Bangunan Sultan Abdul Samad will be periodically lighted pink for this period. I'm not sure when these "periodic lighting" will take place but if you do happen to catch sight of it, do remember that it is not just a pretty sight, its a reminder to all women to go home and feel your boobies.
If you aren't sure how to go about performing a self breast examination, you can learn how at the free health checks and health talks at MidValley Megamall (Oct 8-10) and 1 Utama (Oct 15-17).
Remember ladies, its our bodies and we are responsible for ourselves. Breast cancer can be detected early through regular breast self-examination once a month. And early detection means early treatment and that can save lives.
So I know, the whole pinking of October can get very numbing. We are bombarded by visuals and products left and right in various shades of pink, ostensibly for the breast cancer awareness cause. How much of is it is for commercial gain, and how much of it goes towards cancer research? Its the question I ask all the time. A pink toaster just doesn't cut it in the awareness stakes, for me.
So buy, if you must. Or don't if you are like me and don't believe in how commercial something important like breast cancer awareness has become.
But don't let it change the message you should take away from the warm pink fug – we can fight breast cancer and we can survive breast cancer. We just have to detect it early – and that starts with a monthly breast self examination and an annual mammogram (if you are over 40).
So, have you touched yourself yet? 😉
Paris B