Last week, I showed you the photos of the blush in the Smashbox Masquerade collection – the Creamy Cheek Color and Brush in Intrigue.
It is a cream stick blush – something I'm not usually a fan of because sometimes, cream blushes can settle into pores or the texture may be too oily. I'm always very wary of cream blushes.
Happily, this Creamy Cheek Color, despite its name is not oily at all. There is enough slip for you to get the colour on your cheeks, but it does not slip and slide all over the place. In fact, I like to apply this by dabbing it directly on my skin as it dries into an almost powder texture. Lovely! And so's the colour.
Intrigue is its name and it is described as a "Warm Pink". I must say that the description is pretty accurate. It is a pink, but not so bright as to be bubblegum, yet not so light as to be invisible. It is a warmed pink with slight peachy tones. Here's the swatch.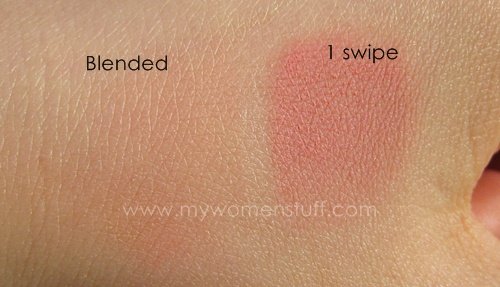 You can see that when first dabbed on the skin, even with just 1 swipe, the colour is quite strong. Its not unmanagable nor scary, just strong. But once you blend it out with light tapping motions, it becomes a peachier shade on my skin. I don't blend it out too much because I like the pinkiness of it.
Here are 2 separate pictures of me wearing this blush to show how it looks on the cheeks instead of on the back of my hand.
In the picture on the left, I had layered Illusion Softlights over it and the blush looks slightly peachy. In the picture on the right, I did not and the blush looks more pink. Lighting is a little yellower than what it should be, but you get the general idea. Its quite Intrigue-ing 😛 I didn't use very much. Just a few dabs on the apples on my cheeks, light tap to blend and I'm good to go!
I love just how portable this blush is, how friendly it is for hot humid weather like ours (its not too creamy) and how pretty the colour is. If you are very tanned, I don't think it'll show up more than as a slight flush though so do take note.
Now, Intrigue is a "Creamy Cheek Color with Brush" and here is the brush which many of you said looked rough and was likened to coconut husks, or maybe even a broom 😀
Its not that bad really. It just looks bad. On the skin, its not too stiff or too hard but I personally found that it did nothing but brush away too much colour. I prefer to just use my fingers to lightly tap at the cream blush to blend. It works much better.
On my skin, the blush lasted for most of the day. On a couple of days when I was out in the sun or heat a lot, it lasted till the early evening at least. As I've noted, its not too creamy nor oily so it does not slip and slide around nor does it make me look oily after a few hours. I like that.
A tube retails at RM109 and comes in only 1 colour – Intrigue.
Pros: Lovely colour, Not too creamy nor oily, Blends easily, Travel friendly

Cons: Brush served no purpose, Limited Edition
I'd love for Smashbox to come up with more of the Creamy Cheek Colors. For me, they have done a great job with this one. I'd do away with the brush though, I don't think it serves any purpose at all since fingers do a much better job.
Might this product or colour be one to win you over? The texture is really nice too – dryish yet does not drag on the skin and dries to an almost powder finish. Oh there are no sparkles in this too 😀
Paris B
Smashbox Cosmetics Masquerade Creamy Cheek Color and Brush is Limited Edition and retails for RM109