A few months ago, I received a couple of interesting products from AuraVedic, all the way from India. In keeping with the Indian heritage AuraVedic is a combination of two words – Aura (a manifestation of your divine energy) and Vedic (referring to Vedas, the ancient Indian texts on which Ayurveda is based on)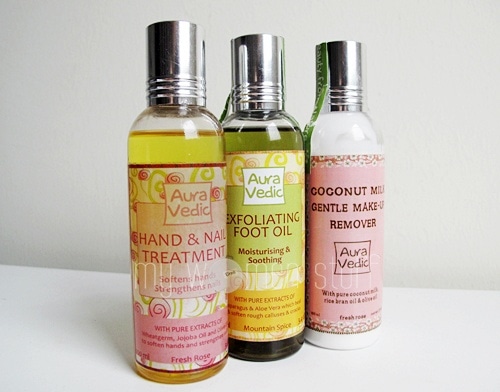 Auravedic claims to use pure natural ingredients and pure natural processes in the creation of their products. Many of their products are oil based instead of cream or lotion based. In many ways, oils are purer as they don't go through as much processing. I took the products for a spin over the past few months and I think I'm ready to share my views on them 🙂
I was sent 2 body care products – Hand and Nail Treatment, Exfoliating Foot Oil and 1 skincare item – Coconut Milk Deep Cleanser. Incidentally, they fall into 3 categories too. One worked for me, one was alright and one didn't.
Auravedic Hand and Nail Treatment Oil
I liked this even if the rose scent is rather strong. Its a powdery, musky rose scent that not everyone might like, but once I get over it, I'm alright. My bottle arrived a little leaky (hence the oil soaked label) and there was no hole in the plastic stopper. No matter. I used a nail and its really easy to punch through.
The oils are a combination of wheatgerm, jojoba and olive oil and it is light and runny. It does take a while to absorb so my recommendation is just to use 2 drops. Believe me, its enough. I used to use more and have to spread it all over my arm. I don't pay enough attention to my hands really I only really noticed the difference when I stopped using it for a spell. My hands were dry and my cuticles were peeling. I started using this oil again and in a week, my hands were back to being smooth, with no dry skin around the nails and the back of my hands too looked smoother. Its really good stuff. I use it overnight so I don't leave handprints all over the place.
AuraVedic Exfoliating Foot Oil
Now for the feet. Confession: I don't take care of my feet. Poor feet are subjected to so much abuse but I guess I'm lucky I don't have cracked heels and the like. Just a lot of callouses and hard skin around my toes.
Using this oil is a bit of a problem. I say problem because if you don't have it on your bedside, you'd find oily footprints on your floor since it takes a while to absorbs fully into your skin. But if you keep it on your bedside, massage in the oil and then go to bed, its alright. I sometimes wear socks after applying the oil. It helps my feet feel softer when I wake up.
I used it regularly and although some of the harder skin around my feet felt a little softer, it did not quite help smoothen dry skin. I will continue to use it because I already have it. Ultimately, using something on my feet is better than not applying anything at all!
Auravedic Coconut Milk Cleanser
This is a thick lotion cleanser that you apply directly onto your skin at the end of the day, massage it in and then remove with cotton or tissue paper. The scent of rose is rather strong in this one and to my surprise, it absorbed into my skin quite quickly so there was no layer on the top of my skin to tissue off.
In fact, I found it quite hard to remove makeup, because there was no slip. It was a little odd. The other thing is that it left a film on my skin that I found hard to wash off. You aren't supposed to, but I'm used to a clean face before bed and this was not quite for me.
I suppose in hot humid weather, this might not be the best cleanser to use and if you have very oily skin it might potentially clog pores. It did not clog mine, but I have drier skin. In cooler or drier weather, its probably much better.
AuraVedic Natural Soaps – Cinnamon Turmeric Soap and Lemongrass
These soaps are handmade of glycerin and aren't drying on the skin at all. They don't disappear as quickly as some other handmade soaps I've tried and they are altogether not bad. They are well packaged too and would make great gifts!
AuraVedic is only available in India
Now for the bad news, for those who might be interested in these products. At time of writing, the brand is only available in India although I'm told that they are looking to penetrate other markets.
The upside is that if you are interested in placing an order, they will ship worldwide. Prices are very affordable. Each of the 3 skincare items above have a retail price of US$2.80/100 each. The oils will last you a long long time and they aren't bad.
The natural handmade soaps are between US$0.60-0.80 each. Again, they are very affordable. So if you might be interested, drop Auravedic a line at [email protected]. They do wholesale enquiries too and if you do write in, let them know I sent you 🙂
Paris B
AuraVedic is available in India and online at www.auravedic.com