Happy Fri-i-day Ladies!
I make no secret of the fact I love expensive lip glosses. Some people think me nuts but hey, it works for me! And Guerlain Kiss Kiss lipglosses are up there on my list of favourite lipglosses. I started my "addiction" with the Divinora lipglosses and moved onto Kiss Kiss when Divinora was discontinued.
This year, Guerlain has a new lipgloss to offer – Kiss Kiss Essence de Gloss. What it is is a lipgloss that cares for your lips. psst. Where have we seen this before? 😉
Forming a part of Guerlain's Fall 2010 collection, the Kiss Kiss Essence de Gloss is (thankfully) a new addition and thus NOT limited edition. Mine is #462 Violine, a deep plum that is calling out to form part of a Fall makeup collection.
The long slim tube of lipgloss comes in the signature Kiss Kiss square gold packaging with a clear strip around the middle. This remains clear until you first remove the cap and then the colour rushes to fill the space. I love this! It also means you'll never buy an opened lipgloss because you'd KNOW if its been opened before – genius right? 😀 Its actually to make it easier to locate if you have… oh I don't know… a few of these babies? 😛
The Kiss Kiss Essence de Gloss applies very smooth and the pigment is good. It isn't as strong as it looks in the tube though, which might be a good thing, and you can sheer it out. The doe foot sponge tip applicator is a departure from regular Kiss Kiss lipglosses that come with a brush.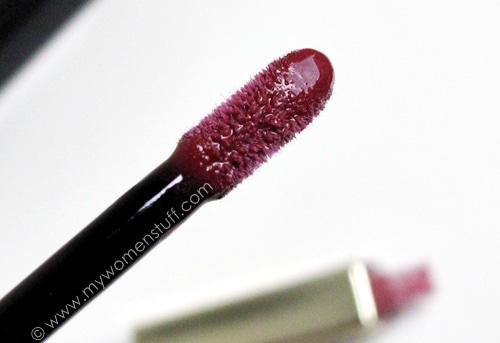 Applied on the lips, it does not feel heavy or sticky which is quite normal for Guerlain Kiss Kiss glosses. It feels light and to my surprise, it lasts quite a while despite being a lipgloss. I can take it all the way to lunch if I don't go crazy drinking lots of coffee and water in the mornings; but even then, a slight colour remains.
Violine as I have shown you, is a plummy shade I was a little afraid of. Silly me. It looks beautiful on lips!
Violine is a little cool toned – the sort of colour I pull off quite readily and there is no sparkle, just glossy shine. As for the lip caring qualities, I'm not quite sure about that. Its supposed to contain mother of pearl and vitamins A and C. The gloss isn't drying, that's for sure and my lips do not feel chapped after it wears off. I'll even forgive them the slight scent.
Guerlain says that the formula contains sapphire to smooth wrinkles and fine lines, but I did not quite notice that. Maybe it'll help if you wear it every single day? But I'm too fickle for that. I'll settle for non drying and gorgeous colours in a non sticky goopy gooey formula.
Pros: Not sticky, not drying on lips, Light texture, Good pigment

Cons: Pricey but then its luxury
A 6ml tube of Guerlain Essence de Gloss retails at RM105 at all Guerlain counters (luxury brand remember?). I might pick up one more perhaps in Ambre #460 or Baie Rose #461 both of which are lighter rose-pink shades. I'm on a bit of a hunt for lighter lip shades 🙂
Guerlain Fall 2010 Collection
Just quickly, I know everyone is drooling over the eyeshadow palettes from the upcoming fall collection from Guerlain. They are named after the 6 Guerlain boutiques in Paris.
I saw them recently, and they are beautiful. High Fashion metal cases that are quite big in size and just all round gorgeousness with the lace cutouts. However, I felt a wee bit let down after seeing the purple one in real life. The colour just looks a bit too muted and matte compared to how vibrant they are in online photos.There are 3 textures in each 6 colour palette – iridescent, matte and satin.
The one we see most online is the purple palette (68 Champs Elysees) but the one I'm really looking forward to checking out is 2 Place Vendome. The teal shade calls my name and I'm really keen to see how it looks in real life.
Does the Guerlain Fall collection do it for you? I'm really liking the Essence de Gloss so as I said, I might get another (but since its not Limited Edition there's no rush – whew!) and I will be checking out 2 Place Vendome to see if I really like it in real life. I guess you could say that yes, I'm digging this collection! 😀
Paris B
Guerlain Fall 2010 is available August 2010 at all Guerlain counters – Parkson KLCC, Parkson Pavilion, Sogo, Isetan The Gardens and Tangs Pavilion.
Guerlain Fall 2010 Collection product pricelist
Ecrin 6 Couleurs Precious Eyeshadow palette – RM266
Kiss Kiss Essence de Gloss – RM105
Rouge g de Guerlain – RM161
Kiss Kiss Gloss – RM95
Blush 4 Eclat – RM158