The new Dior Addict UltraGlosses come in 3 different styles, as it were.
Flash – Bright colours and sparkly!
Pearl – Bright shades with iridescent shine
Glow – Nude shades with light sparkles
Now I'm a huge fan of Dior Addict lipglosses. I have been for years and years and I've already gone through quite a few. But what I particularly like about the new formula, isn't quite the formula per se, but the fact that Dior has twigged that brushes apply lipgloss better than sponge tips! The new Dior Addict Ultra Gloss comes with a brush applicator – hurrah!
As for texture, I have absolutely no complaints whatsoever. Do bear in mind that I'm biased because I already love these. But if you are the sort to scoff at lipgloss and be like me once and "never wear lipgloss" then Dior Addict glosses might just change your mind.
The formula is light on the lips yet pigmented enough, not sticky or tacky yet have a great shine and lasts on the lips and although there is a scent, it is bearable. Dior Addict glosses are the best! They sit up there with Guerlain Kiss Kiss glosses for me.
Here are some swatches of the 3 colours I have, and how different each style is from the other.
Pearl #576 – Sari Pink / Rose Sari
The Pearl style imparts a pearly shine to the lips so there is more shimmer and the colour is a little stronger. Sari Pink is a bright rose pink in the tube but applies a little more muted with lots of shimmer, which is great when you want shiny lips. I love this one for colour.
Flash #557 – Empire Pink / Rose Empire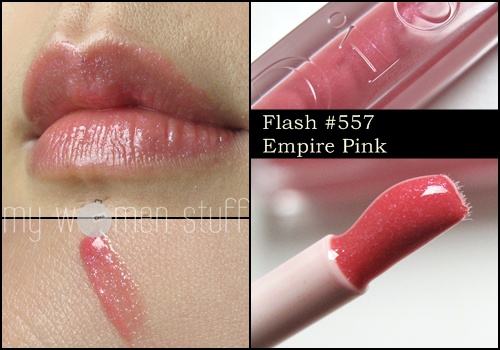 Flash is the most sparkly of the 3 styles. It offers a bright pop of colour with loads of sparkly shine and is great if you aren't afraid of bright shiny sparkly lips. Empire Pink is a rosy pink shade that applies exactly as it looks in the tube – sparkly and gorgeous! The swatch on the back of my hand tells it all.
Glow #342 – Corail Confidential / Coral Confidential
Glow is quite possibly the most muted of the 3 styles. It gives just a shine to the lips… a glow more like, without shimmer or glitter. It is great for those who like understated lip colours. Coral Confidential applies on my lips, as a "my lips but better" shade, which is quite strange as I was expecting a coral toned lip colour. It is in fact a good neutral lip shade for me. This might be because Glow is the least pigmented of the 3 styles of the new Dior Addict Ultragloss. If you like just a hint of colour on your lips without all that shine and sparkle, go for Glow. Brides will love these too for that shine without too much sparkle.
Pros: 3 textures to suit different styles, non sticky, non drying, lovely colours, Brush applicator offers good control

Cons: Some might find it pricey
Which is your fave?
Which is my fave? Pretty much all 3 but if I had to pick just one, it'd be the Glow #342 Corail Confidential. I'm not partial towards nude or neutral toned lips, but I love how lovely and shiny my lips look (without being sparkly or overdone) and I love that I've been wearing this for about a week straight. That's saying a lot! In terms of colour, I like Sari Pink – I've never really been able to wear pink lip colours but this one is changing my mind. I can wear pink it seems! Yay! 😀
I reserve the Flash texture in Empire Pink for evenings. Its so sparkly that it makes me look overdressed in the day.
Have you tried Dior Addict lipglosses? Like them as much as I do? 🙂
Paris B
Dior Addict Ultra-Gloss retails at RM88 each at all Dior Cosmetics counters