Bodybar Skincare gifted me with a set of the Madara Flower Attack Set sometime back towards the end of 2009. Of all the natural and organic skincare I've used, Madara has thus far worked for me, and remains high on my favourite list and here was something for the body!
The Flower Attack set consists of 3 items – body wash, body oil and body lotion. You can purchase them separately too which is great as I will tell you why in a bit 🙂 Oh and what this "attack" is is cellulite. This set of products claim to help fight the orange peel look of cellulite which all of us women are "blessed" with, and stretch marks 😛
Madara Toning Shower Soap (RM88/200ml) (link)
This shower soap is a lovely body wash. Washes clean and does not dry out the skin and is lovely overall. Only one snag. I do not get how a body wash can help reduce the look of cellulite nor of stretch marks. So, whilst its a lovely body wash, but I wouldn't purchase it for its cellulite busting qualities. They do say that it preps the skin for the next bit of treatment so that might be it.
Madara Anti-Cellulite Cream (RM138/200ml) (link)
This is apparently, the second step in the Madara Anti-Cellulite range. What it claims to do is "attack" the cellulite and promotes the breaking down of fat cells to give you smoother skin.
The cream is light, absorbs quickly and does not feel sticky or oily on the skin. I don't have a bad case of cellulite or visible cellulite so I cannot say if it works. But it is lovely as a body lotion, leaving my skin feeling smooth and touchable after application; and if it works, all the better!
When I feel in need of extra moisture, I add some of the oil to the lotion. Its a right treat! Which brings us to the body oil which I really like.
Madara Firming Body Oil (RM128/200ml) (link)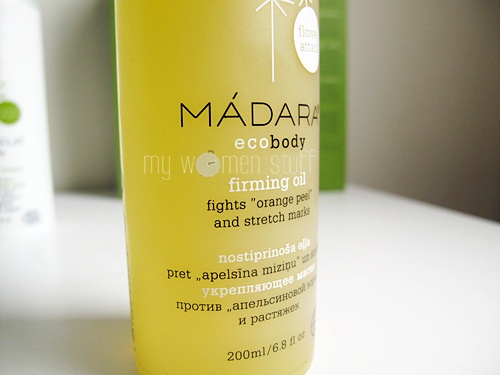 Ahh… I liked this one! This might be the one product that made me value the use of oil on the skin. Now, lets be honest. I have cellulite – who doesn't. But its not severe and I don't quite bother to be honest 😛 So I cannot say if this body oil helps reduce the appearance of cellulite with or without the special massage. It is also supposed to help reduce the appearance of stretch marks, and I do have those on my thigh area from weight fluctuations when I was younger.
Does it reduce the appearance? I'm not the best person to ask because I'm so irregular in my use 🙁 I'm terribly lazy when it comes to applying body lotions.
What I can tell you is that this body oil makes your skin so soft and velvety! I apply it all over my legs and arms, and rub it in so it gets absorbed into my skin. It makes my skin feel smooth and soft especially in the morning when I wake up. I am lazy, I confess so I don't use this as often as I should. Still, I like the flip top bottle packaging and how it spreads easily and absorbs quickly into the skin. I reckon it'd work well for pregnant women who want to combat the stretch marks problem that pregnancy gives since its organic and all.
Pros: Used regularly it might help reduce the appearance of cellulite, Used individually each product is nice on the skin, Firming Oil leaves skin feeling smooth soft and velvety

Cons: Each product is rather pricey, Only available at selected places or online
The Madara Flower Attack set comes as a set of 3 full size products for RM298, but as I have said, it is sold separately too. I cannot say if it works to combat cellulite, or reduce its appearance, but I can tell you that each of it individually is a very nice body product. If you'd prefer to just buy 1 – go for the body oil. I think its the best of the lot!
Mmm… I always feel like a bit of a salad after oiling myself up at night LOL!
Paris B
Madara Flower Attack Anti-Cellulite set is available as a set at RM298 or sold separately at www.bodybarskincare.com