I'm not usually into Summer collections but this new one from Smashbox has caught my eye for a while ever since I saw it on other blogs. Incidentally, its now available at our local Smashbox counter so its a good time to tell you about it 🙂
Smashbox Naked Beauty is a small collection but I think its a very decent sort of collection and I do hope they make one of it permanent – I'll tell you which below.
I showed you the Naked Beauty Lip Gloss collection last week. Its a boxed set of 8 mini lipglosses in sheer shades.
I only kept 2 – Pure (rose tint) and Nude (neutral nude) and the rest will be with my friends. The texture is a little thick but its non sticky and being mini, its easy to slip into your pocket or handbag. The only problem of course is that since its so mini, you are liable to lose it and I can just see that happening to me. Get it for yourself, or to share out with friends, or just break it up to add to gifts for friends.
The item I like most in this collection is the Photo Finish Lid Primer in Golden Nude.
It works well either worn on its own with liner and mascara or under powder shadows for greater intensity of colour and lasting power. I like it both ways and I do hope Smashbox makes this a permanent feature.
The final item in the collection is a cream blush/highlighter duo. It reminds me of the one by Stila, if you remember that. Unlike the Stila one, this one by Smashbox has more slip. The red side has coral tones and the lighter side is the highlighter which is a pale pearl shade.
Will it fit all skintones? Its hard to say. That red side is a tad dark and warm, although you can blend it out to a very pretty rosy tone and temper it with the pearl. On girls with medium-dark skin, I think this cream blush will look amazing on them, because it will give just the right hint of colour without having to work too hard at it.
There is no shine, nor is there crazy shimmer. Its actually very wearable once you get the hang of it. Do not blend it out too much, or it will be liable to disappear. Start with just a little bit and pat it on your cheekbones, layering as you go.
Here are swatches of all the products above:-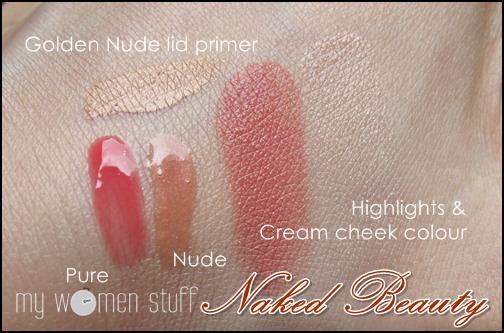 I've got a look coming up that shows you just how these look when worn. They are limited edition and will be available at the Smashbox counter at Pavilion Kuala Lumpur.
Does any item catch your eye? My personal favourite and one that I will recommend getting is the Photo Finish Lid Primer in Golden Nude – a lid primer that does double duty as eyeshadow – cool or what?! 😀 If you'd like me to review this by itself do holler!
Paris B
Smashbox Naked Beauty Summer 2010 collection is Limited Edition and available at the Smashbox counter at Parkson Pavilion Kuala Lumpur. Prices of products are: Naked Beauty lipgloss set (RM99/box), Naked Beauty Golden Nude lid primer (RM76) and Naked Beauty High Lights/Creamy cheek colour (RM89)